Introducing the Hawaiian Pizza Ice Cream Sandwich, Complete With Hunks of Spam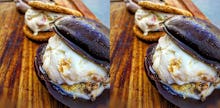 We live in a world where it's possible to get ice cream in wildly different flavors: There's one made from coconut ash colored jet black, another with fresh buttered lobster and even a flavor spiked with horseradish. 
It'd seem there'd be no flavor combination left to shock us, and yet, a Hawaiian pizza ice cream flecked with meat has done just that.  
Los Angeles-based ice cream company Coolhaus's latest creation "The Hawaiian Pizza" is an ice cream cookie sandwich that features pineapple ice cream spiked with chunks of Spam, Time Out reported. Yes, that's the canned meat product that inspired an entire musical. A scoop of the ice cream is sandwiched between two white chocolate macadamia nut cookies. 
Unfortunately (or fortunately, depending on how you feel about Spam ice cream) the creation is only available at Hanjip, a Korean BBQ restaurant in Los Angeles (Hanjip's chef Chris Oh collaborated with Coolhaus to make the ice cream). It's featured alongside two other special ice cream sandwich creations, including one made with red bean ice cream and shoestring fries, and another made with Korean choco pies. 
This isn't the first time Coolhaus has turned to pizza as an inspiration for flavor. Last year, the ice cream purveyor debuted a classic pizza flavor: While there is no melted mozzarella in the scoop, it featured an olive oil and mascarpone base, with sun-dried tomatoes, fresh basil and a pinch of salt. 
Read more: