Elizabeth Warren Endorses Hillary Clinton: "She's a Fighter — a Fighter With Guts"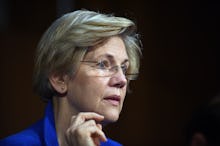 Lending her progressive star power to a candidate who has struggled to win over left-wing voters, Sen. Elizabeth Warren of Massachusetts on Tuesday endorsed presumptive Democratic nominee Hillary Clinton's presidential candidacy, imploring the party to coalesce behind Clinton after her fierce primary battle with Bernie Sanders.
"I'm ready to jump in this fight and make sure that Hillary Clinton is the next president of the United States and be sure that Donald Trump gets nowhere near the White House," Warren said in an interview with the Boston Globe on Thursday. "I'm supporting Hillary Clinton because she's a fighter, a fighter with guts."
Warren also discussed her endorsement in an interview on MSNBC's Rachel Maddow Show.
The endorsement came on the same day that President Barack Obama endorsed Clinton, even as Sanders promises to campaign through the Washington, D.C. primary on Tuesday. A steady stream of Democratic officials — including some Sanders supporters — have thrown their support behind Clinton since she clinched the Democratic nomination this week.
Read more: Why Elizabeth Warren Really and Truly Matters Now More Than Ever
Progressive gravitas: The scourge of Wall Street has espoused views on economic inequality and financial reform that align her more closely with Sanders' vision, but Warren remained steadfastly neutral throughout the primary process.
Warren praised Sanders' campaign in her interview with Maddow on Thursday.
"He ran a campaign from the heart. He ran a campaign where he took these issues and he really thrust them into the spotlight," she said.
But neutrality served dual purposes for Warren. It allowed her greater leverage over Clinton — whose nomination has long been seen as exceedingly likely, if not a foregone conclusion — as the former secretary of state formulated policy positions on Warren's signature issues, including bank reform and consumer protection. Warren has praised both Clinton and Sanders for their Wall Street reform agenda.
And in recent weeks, Warren — unencumbered by the limitations that come with being one campaign's surrogate — has taken up the mantle of Donald Trump antagonist-in-chief, excoriating the presumptive Republican nominee on matters from his defunct for-profit education venture to his alleged "racism, sexism and xenophobia."
"He is a threat to who we are as a people," Warren said in her interview with Maddow Thursday.
Those relentless attacks have stoked speculation that Warren could be an effective running mate for Clinton — and there's a growing clamor among some of Warren's Senate colleagues and select members of Clinton's campaign for Warren's selection. Clinton told Politico on Thursday that Warren is "eminently qualified for any role," and in an interview with Mic last month, Warren wouldn't rule out the vice presidency.
Should there be signs that Clinton is struggling to win over Sanders' devoted corps of supporters, Warren's stock as a populist fighter may rise further.
For now, though, Warren's focus remains on the task ahead. The senator told the Globe on Thursday that she didn't want to "get into" vice presidential speculation.
That said, Warren made clear that she's ready to be a heartbeat away from the highest office in the land.