Donald Trump Has a Long History of Not Paying People for Working for Him, New Report Shows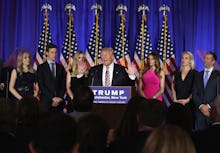 The Republican Party's presumptive nominee Donald Trump is a self-proclaimed great savior of American jobs and the economy — and yet, his companies and organization all share one common concern: they consistently fail to pay people for their work. 
The publication found Trump has been involved in 3,500 lawsuits over the past 30 years, with at least 60 of those documenting businesses and their employees' experiences not receiving pay for doing their jobs. He's also received 24 citations since 2005 for violating Fair Labor Standards Act for not paying workers minimum wage and over time appropriately. 
"Among them: a dishwasher in Florida," USA Today reported. "A glass company in New Jersey. A carpet company. A plumber. Painters. Forty-eight waiters. Dozens of bartenders and other hourly workers at his resorts and clubs, coast to coast. Real estate brokers who sold his properties. And, ironically, several law firms that once represented him in these suits and others."
"Let's say that they do a job that's not good, or a job that they didn't finish, or a job that was way late. I'll deduct from their contract, absolutely," Trump told USA Today in a separate interview. "That's what the country should be doing." 
Trump then seemed to change his tone, saying, "We pay everybody what they're supposed to be paid, and we pay everybody on time. ... And we employ thousands and thousands of people. OK?" 
The report also documents his companies failures to maintain employee information on hours worked and pay.
Read more: