Hillary Clinton Takes Her First Step Toward Winning Over Millennials Who Felt the Bern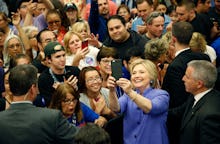 The first key member of Sen. Bernie Sanders' staff has joined Hillary Clinton's campaign, and will play a major role in helping bring Sanders' army of young supporters to Clinton's side, Politico reported Friday,
Kunoor Ojha — who served as Sanders' director of student organizing — will lead Clinton's outreach to young voters, who backed Sanders' campaign by large margins in the primary.
Read more: The Real Story of How Bernie Sanders Became the Candidate of Millennials
While polling shows many young voters are open to voting for Clinton, shoring up their support will be essential for Clinton's campaign.
Young people were an integral part of President Barack Obama's coalition in 2008 and 2012, and Democrats can't afford for them to sit out the election in a race against presumptive GOP nominee Donald Trump.
Ojha's move to Team Clinton comes three days after the former secretary of state clinched the Democratic nomination, and a day after major Democratic officials came out to back her bid, including Obama, Vice President Joe Biden and Sen. Elizabeth Warren.
It's not unprecedented for staffers from opposing campaigns to join the team of a former primary foe for the general election. A number of Clinton staffers joined Obama's campaign in 2008. And it's likely that more former Sanders aides will head to Clinton's campaign in the coming days.
Sanders has yet to suspend his campaign, saying he'll contest the final primary on the calendar in Washington, D.C., on Tuesday.
But after Clinton won by large margins in California and New Jersey on June 7, Sanders has no shot to overtake Clinton in pledged delegates. And flipping superdelegates — party officials and insiders who get a vote on the convention floor — is likely off the table after Obama's endorsement, as Democrats are unlikely to deviate from the leader of the party set.
And Sanders himself suggested he's recognized that, saying he congratulated Clinton on the primary and looks forward to meeting with her to discuss how they can beat Trump.
"I will work as hard as I can to make sure that Donald Trump does not become president of the United States," Sanders said Thursday following a meeting with Obama at the White House.