Joe Biden and Elizabeth Warren Rip "Racist" Trump to Shreds in Barn-Burning Speeches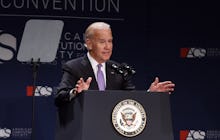 Vice President Joe Biden and Sen. Elizabeth Warren did not mince words Thursday night about their feelings toward presumptive GOP nominee Donald Trump, calling him a "fraud," a "racist" and a "bully" who is unfit to be president.
They made their comments during speeches at the American Constitution Society's national convention in Washington, D.C., and on the same day both threw their support behind presumptive Democratic nominee Hillary Clinton.
Read more: Why Elizabeth Warren Really and Truly Matters Now More Than Ever
"Donald Trump is a loud, nasty, thin-skinned fraud who has never risked anything for anyone and who serves no one but himself," said Warren, who's stepped up as one of Democrats' most forceful adversaries against the billionaire businessman.
Warren went on to call Trump a "disgrace" for picking a fight with Judge Gonzalo Curiel, whom Trump said is too biased to preside over the Trump University lawsuits because of his Mexican heritage.
"Trump is picking on someone who is ethically bound not to defend himself – exactly what you'd expect from a thin-skinned, racist bully," Warren said.
"Race-baiting a judge who spent years defending America from the terror of murderers and drug traffickers simply because long ago his family came to America from somewhere else. You, Donald Trump, are a total disgrace," she continued.
Biden, for his part, was less combative than Warren in his criticism of Trump. But he said the real estate mogul "cannot be trusted."
"A presidential candidate who publicly attacks a sitting federal judge who ruled in a way that was against his own economic interests cannot be trusted to respect the independence of the judiciary as president," Biden said.
Trump's fight with Curiel has sparked outrage even among members of his own party, who called the statement racist.
A super PAC backing Clinton's campaign has used the friendly fire in attack videos posted on the web, and will likely continue using it in television ads in the fall.
Polls suggest that the spat with Curiel may be hurting Trump's poll numbers, which have fallen 6% since May, according to a national poll released by Fox News.