Watch These 'Harry Potter' Actors Get Sorted Into Hogwarts Houses Online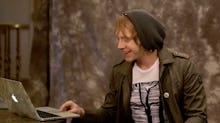 What happens when four actors from the Harry Potter films got sorted into Hogwarts houses via online quiz?
Well, they didn't all match up with the characters they played.
In a new video from Pottermore, J.K. Rowling's official Harry Potter site, four stars of the Harry Potter films took a quiz to be sorted into Hogwarts houses.
Bonnie Wright, who plays Ginny Weasley, was sorted into Gryffindor (just like her character).
But Rupert Grint, who plays Ron, was sorted into Hufflepuff.
And so was Matthew Lewis, who plays Neville Longbottom.
Evanna Lynch, who plays Luna Lovegood (a Ravenclaw) seemed pretty thrilled to be sorted into Gryffindor.
At least no one got Slytherin.
Pottermore launched in 2011 as a way for Rowling to deliver news and new content to Harry Potter fans — and it quickly became an online way for readers to keep the magic alive even after finishing all the books. Rowling has also used to to tease clues about upcoming projects, including Harry Potter and the Cursed Child, a play that will continue the series and began previews in London earlier this week.
Of course, as Wright, Grint, Lewis and Lynch found out, one of the first steps to joining the online community is getting sorted in your Hogwarts house.
Watch the whole video here: