New Analysis Reveals TV's Diversity Problem Is Way Worse Than We Thought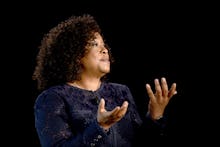 A new analysis from Variety has uncovered a big problem with racial and gender diversity on television.
While much of the debate around Hollywood's overwhelming whiteness and maleness has focused on who we see represented on screen, an even more dramatic disparity exists behind the camera.
Of the 50 showrunners spearheading 38 new scripted TV series coming out in the 2016 to 2017 season, a staggering 90% are white and almost 80% are male.
Showrunners are the driving force behind all the television we watch.
"[They] not only determine the creative direction of their programs; they also oversee the hiring, firing and mentoring that gives the next generation of creators a chance to ascend," Variety writes.
These numbers tell a damning story.
Variety surveyed all but four of the upcoming TV shows produced by five major broadcast networks: ABC, Fox, CBS, NBC and the CW.
Just 11 of these 38 series will be run by women. The five nonwhite showrunners include Gina Prince-Bythewood (Fox's Shots Fired), who is black, and Manny Coto (Fox's 24: Legacy), who is Hispanic.
None of this bodes well for the future diversity of an industry that's been celebrated for being so much more diverse than film. 
While a recent uptick in new shows starring racial minorities drew accolades — and actors of color have been more common than creators and showrunners of color — Variety's data shows the television industry has a long way to go.
The TV industry has never been kind to minorities.
Data on showrunners is difficult to come by, but a 2015 study from the University of California Los Angeles' Ralph J. Bunche Center for African-American Studies revealed that just 5.9% of the creators of scripted broadcast shows were racial minorities in the 2012-2013 TV season, while 28.9% were women.
Show creators of color fared better in cable shows, at 10.7% — but women were worse off in cable than broadcast, at 22.6%.