American Apparel's Pride Totes Are Drawing Facepalms — Here's What the "A" in LBGTQA Means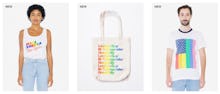 While American Apparel's Pride Month gear calling to "Make America Gay Again" went over without a hitch, the retailer is receiving flak for tote bags which suggest the "A" in LGBTQA stands for "ally." 
"Not quite," said the internet.
On Tuesday, American Apparel posted a photo of the Legalize Gay collection on Instagram, and users pointed out that in the "A" typically represents agender or asexual people, and celebrating allies — those who don't identify as LBGT but participate in the community's fight for equality — rather than people within the community is exclusionary.
"Ally??? Are you kidding me, @AmericanApparelUSA??" wrote Instagram user EmilyBeanStraw in the comments. "The 'a' stands for asexual. Way to erase many people's identity. By including allies, all you're doing is giving straight people a pat on the back for not being terrible homophobic/transphobic trash. I was excited when I first saw this to rep some bi pride but now I'm just pissed off."
Chemicallyromanticplots wrote, "My asexual ass over here um hey yeah A doesn't stand for ally ok cool thanks :)" while user Slimegorl replied, "They fucked up on this honestly LMAO." 
On Twitter, some users raised similar concerns: 
The accepted format of the acronym meant to represent a spectrum of sexual orientations and gender identities has long been up for debate. AP style limits the acronym to "LGBT," which stands for lesbian, gay, bisexual and transgender. Others reverse "gay" and "lesbian." In the mainstream, adding Q for "queer" has gained traction, while some have expanded the acronym all the way to LGBPTTQQIIAA+ to include lesbian, gay, bisexual, pansexual, transgender, transsexual, queer, questioning, intersex, intergender, asexual, ally and beyond. (Mic's style guideline is to be as specific as possible in all cases — since an umbrella acronym is rarely completely applicable to a story — and to say exactly which communities an issue references.)
"All you're doing is giving straight people a pat on the back for not being terrible homophobic/transphobic trash."
Because the acronym has historically been flexible, some people wanted to give American Apparel the benefit of the doubt.
"Can't people take a second and appreciate the message behind this whole collection, rather than tearing this company apart because they replaced one group/word?" asked Instagram user Letsgetweirddd_. Carnifexuals_stuff said, "At least American Apparel is FOR the LGBT+ community. It's most likely just an honest mistake that they thought A meant ally."
For others, though, what some saw as a misstep was a symptom of the marginalization of asexual and agender people within the LGBT community. 
"Wow way to give Asexuals/Aromantics/Agenders a cold shoulder by making them non-existent and replacing them with 'allies,'" wrote Instagram user Cchatons. "Thanks for making us feel even more erased/forgotten."
On Thursday, American Apparel — which is well-versed in controversy — addressed the backlash in a tweet emphasizing the company's dedication to representing the "full spectrum of sexual orientations and gender identities."
Read more: