Daisy Ridley Recorded "At the Ballet" With Anne Hathaway and Barbra Streisand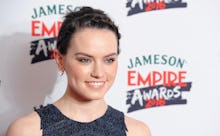 Last year, Daisy Ridley became a movie star. Now that she's being featured on Barbra Streisand's new album ENCORE: Movie Partners Sing Broadway, she may add "pop star" to her expanding resume.
"I took a chance with Daisy and it paid off because she wasn't kidding, she can sing," Streisand said in a YouTube video.
On the album, the British actor collaborates with Streisand and Anne Hathaway on "At the Ballet" from the 1975 Broadway musical A Chorus Line.
"I have had no experience recording so to have my first experience recording with Barbra Streisand is pretty insane," Ridley said in the video, adding that also working with Hathaway is "slightly daunting."
News of Ridley getting into the recording studio surfaced back in February, but details had remained under wraps until now.
Streisand's album also features actors Jamie Foxx, Melissa McCarthy and Antonio Banderas. And while the album in its entirely won't be available until Aug. 26, those who preorder it will be able to download "At the Ballet" now.
Watch a clip from the recording session:
Read more: