Welcome to Tykables, a Store for Adult Baby Fetishists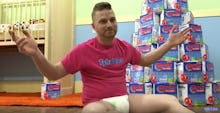 A new store catering to people with a fetish for dressing up as babies opened this spring in a Chicago suburb — and some locals aren't exactly thrilled to welcome the business into their community.
Tykables opened in Mount Prospect, Illinois back in April. In addition to selling adult-sized diapers and toys, Tykables serves as a place for the Adult Baby Diaper Lovers community — that's ABDL for convenience — to meet and spend time together. The space has a 7-foot-high crib, a rocking horse, an adult-size high chair and a playpen.
"We definitely want people to fill the space with things for people to come and play, take pictures," Tykables owner John-Michael "Tod" Williams explained in a YouTube video. "Not everybody has access to a nursery, so one of the things we wanted to do was provide one."
"Paraphilic infantilism," as it's more formally known, is the practice of dressing up as a baby for sexual purposes. But, as Williams told the Washington Post, the adult baby phenomenon isn't always sexual. Some of his clients, he said, find the activity soothing.
"We also have many customers on the autism spectrum because our products are a security blanket for some of them," he said.
Predictably, some Mount Prospect locals have complained about Tykables, demanding that the business be shut down or forced to relocate.
But Williams told the Post he believes the store's detractors are simply motivated by "misplaced fear." And while it's true that the sexual fetish of dressing up as a baby is more taboo than, say, dressing up as a French maid, whatever happens between consenting adults in their bedrooms, or between a law-abiding business owner and his clients, shouldn't be cause for outrage.
Read more: