Amber Heard's Abuse Allegations Against Johnny Depp Sparked Victim-Blaming Headlines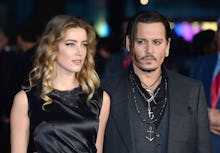 Actress Amber Heard seemingly covered all her bases when she reported abuse at the hands of husband Johnny Depp. 
Heard who alleges Depp threw a phone at her and hit her repeatedly, came forward with photos of the cuts and bruises on her face and texts revealing a history of domestic violence dating back to 2014. She even provided investigators with a witness who overheard the incident on the phone. Heard promptly requested a restraining order and filed for divorce.
Still, the media has been apt to blame Heard for Depp's abuse and continues to color her allegations with skepticism.
On Thursday, E! News ran an "exclusive" story with the share headline "Johnny Depp Never 'Laid a Hand' on Amber Heard While Sober." On the site itself the headline reads, "Why Amber Heard Finally Left Johnny Depp: 'His Problems Got the Best of Him,' Source Says." 
Altogether, the framing of the article removes fault from Depp, who's painted as a mere victim of his vices, and appears to acquit Depp for allegedly never abusing Heard for limiting his abuse to instances of intoxication.
Perez Hilton's pop culture site covered the same story on Thursday, doubling down on the argument that Depp's "addictions" are to blame for his actions. What's more, he filed the story under the tags "Icky Icky Poo" and "Love Line," a radio show that gives advice to callers on sex and relationships.
Other outlets have glossed over Depp's domestic abuse, with People chalking it all up to a "difficult divorce" that could "impact their careers." Another article from E! News obliquely referred to Heard's domestic violence reports as "divorce allegations" that were "spiraling out of control."
And perhaps the most egregious is British tabloid the Mirror's headline: "Johnny Depp's Marriage to 'Alpha Female' Amber Heard Was Destined to Fail, Close Friend Claims." 
Where to begin?
Calling Heard an "alpha female" suggests she stepped out of bounds, causing an emasculated Depp to retaliate with physical abuse. What the source seems to say is that their marriage failed because of an upset in traditional gender roles rather than abuse.
The headline makes clear that the "failure" — a misnomer itself because it falls woefully short of describing the crime of domestic violence — is Heard's own fault.
In an op-ed published May 31, Mic's Jenny Kutner wrote on the victim blaming surrounding the case:
When someone claims they've been brutalized by a person in a position of greater power, whether that authority exists in the relationship or in the public eye or both, the very least we can do — short of simply believing them — is assume they're not operating in bad faith.
Sadly, the same assumption cannot be made of these headlines.
Read more: