J.K. Rowling Claps Back At Racist Twitter User Who Says Hermione Can't Be Black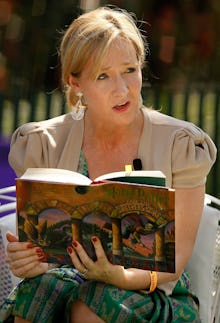 J.K. Rowling would probably cast a tragic spell on her racist followers if she could — but since she's just a muggle, she'll settle for the ultimate Twitter clap back.
The Harry Potter author issued a smackdown of a Twitter user Friday morning when the fan insisted that the actress portraying Hermione in the upcoming Harry Potter play must be white for "consistency of the movie." 
"How come you cannot find even a good white actress?" the user asked.
Not 12 minutes later, Rowling shot back. "We found the best actress and she's black," the author replied. 
"Bye bye, now."
Harry Potter and the Cursed Child previewed in London on June 7 ahead of its official debut. The storyline picks up 19 years after the final novel and follows some of the characters since graduating from Hogwarts. 
But the first photos of an older Hermione and her daughter caused an outcry online when audiences discovered Hermione would be played by a black actress named Noma Dumezweni. 
Rowling has already tweeted her approval of the casting decision, writing, "brown eyes, frizzy hair and very clever. White skin was never specified. Rowling loves black Hermione."
But Thursday's tweet digs deeper at her trolls, letting them know she not only loves the cast, but she doesn't have time for the haters.
Meanwhile, it doesn't seem those who have seen the play are concerned about its consistency to the movie series. 
"Forget the films," one audience member told Reuters. "This is fantastic ... It's got everything."
Boom.
Read more: