Racist Nightmare Principal Allegedly Terrorizes Black Teachers in NYC, Sparks DOJ Lawsuit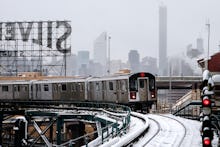 Being a teacher is hard. Being a black teacher is really hard. Being a black teacher with a racist principal who ridicules you for having "big lips," refers to you as a "gorilla in a sweater" and routinely conspires to get you fired is arguably the hardest of all.
Meet Minerva Zanca, the former principal of Pan American International High School in Queens, New York. On Thursday, the U.S. Department of Justice announced it was suing the New York City Department of Education over a "pattern" of racial discrimination stemming from Zanca's alleged behavior.
During the 2012-2013 school year, the DOJ claims, Zanca targeted two of her school's three black teachers, John Flanagan and Heather Hightower, for unsatisfactory lesson ratings — before she even saw their lessons.
When Assistant Principal Anthony Riccardo later refused to give Hightower an unsatisfactory grade at Zanca's behest, Zanca allegedly yelled at him, accused him of "sabotaging her plan" and had security remove him from the school grounds, according to the DOJ.
Zanca also allegedly told Riccardo that Hightower "looked like a gorilla in a sweater." Zanca asked Riccardo if he heard Mr. Flanagan's "big lips quivering" during a meeting once and told him that she could "never" deal with having "fucking nappy hair" like Hightower's, the report added.
A third black teacher, Lisa-Erika James, ran a successful theater program at the school. The DOJ says Zanca repeatedly tried to cut the program, canceling student shows at her whim and refusing to fund production costs despite the school having plenty of money to do so. When James managed to raise money by other means, Zanca allegedly claimed the school didn't have funds to pay her overtime wages for extra rehearsals.
This would all be bad enough had the NYC Department of Education not also refused to do anything about it. Allegations about Zanca's racially motivated conduct were brought to the attention of Juan Mendez, the superintendent of schools in Queens borough, but the DOE did nothing to stop or reprimand her.
Zanca retired in 2015. According to WNYC, Pan American International High School serves mostly new immigrant students who have not yet mastered English, most of whom are Hispanic.
When asked for comment about the DOJ's lawsuit by the New York Times, Zanca reportedly said, "These are false allegations, horrible allegations. I deny them. I'm outraged that this would even be attributed to me."
"It is nearly unthinkable that, in this day and age, one of the largest and most diverse school districts in the United States would allow racial discrimination and retaliation to flourish," the U.S. State's Attorney for the Southern District of New York, Preet Bharara, said in a statement. "Yet that is what we allege happened at Pan American International High School."
Neither Mendez nor the Queens high schools superintendent's office immediately responded to Mic's request for comment.