This Magazine Called Blonde Hair a "Nude Trend for Everyone" — Here's Why That's Racist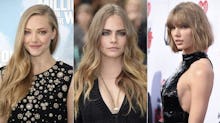 From corn rows being called "boxer braids" to bantu knots being rebranded as "twisted mini buns," white media members are constantly finding new ways to appropriate black hair, turning often-criticized styles worn by women of color into acceptable, "edgy" looks for the likes of Kim Kardashian and other celebrities. 
But Britain's weekly lifestyle magazine Grazia really, really tried it when, on Thursday, it tweeted an article stating natural, blonde hair is a "nude trend that suits everyone."
"Nude hair is a refreshingly easy approach to going blonde — and (praise hands emoji) it's a trend that actually suits every skin tone and hair type," the article, originally published in April, noted. 
The article fails to highlight any black women who have tried the "nude trend," likely because it isn't a trend at all. "Nude" hair is blonde hair, plain and simple. Renaming a hair color "nude" only perpetuates Eurocentric beauty standards so many people have fought to have removed from the mainstream media's focus on looks.
But Grazia pushed onwards throughout the article, with a cavalcade of photos of white celebrities including Amanda Seyfried, Brie Larson, Taylor Swift and Cara Delevingne — all showing off their blonde waves. 
Twitter users were quick to call the publication out for clearly lacking any sort of diversity or representation in their whitewashed post. 
Countless women called out the publication's use of referring to a typically white hairstyle as "nude," noting their confusion with what Grazia thinks nude actually means. 
Meanwhile, several major fashion houses have created inclusive "nude" campaigns that match varieties of skin tones, from Christian Louboutin to Björn Borg. 
Perhaps if Grazia and other magazines want to start creating trends out of thin air, they should stick their heads out from their whitewashed offices and take a good, hard look at all of the different skin types and hairstyles that are truly representative of everyone. 
Read more: