Tech Writer Matt Hickey Allegedly Impersonated a Porn Recruiter to Trick Women Into Sex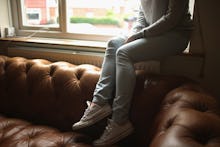 Several young women in Seattle reported that someone by the name of "Deja Stwalley" approached them on Facebook, claiming to be a female porn scout helping girls join the sex industry. According to the Stranger, multiple women have shared the same story about tech journalist Matt Hickey, who reportedly used the Deja Stwalley alias to lure them back to his apartment and coerce them into having sex.  
Hickey would allegedly approach the young women online impersonating a female sex worker and offer to help guide them into the business, recommending a photo shoot and audition with a photographer. When the women arrived at Matt's apartment, they were told they had to have sex with him. At least one woman said she was given copious alcoholic drinks.
One Reddit user posted a warning to Seattle women about Hickey weeks ago. 
"Up to 12 women so far have reported being assaulted by a man in our community who posed as 'Deja Stwalley' on Facebook to lure young women into his home, ply them with alcohol, and then molest them while they were blacked out and unable to consent," ShitSeattleSays wrote. "Avoid this individual and his fake online accounts, as well as in person. He is a sexual predator that should be avoided at all costs."
Read more: 
"He was like, 'Well, we have to have sex, because if we don't then how am I going to know you're for real and you'll actually be able to do this in the industry? So you have to prove to me you're not going to bail out,'" Allysia Bishop told the Stranger. 
This type of ploy is one of the oldest tricks in the book. For years, men have pretended to be porn industry professionals and tried to convince women that sleeping with them would help advance their careers. It's also illegal: In states like California, Tennessee, Alabama and Michigan, sexual assault laws criminalize consent obtained by trickery or fraud. These cases, however, have been notoriously difficult to prove in court. 
Seattle detective Mark Jamieson said the accusations against Hickey are currently being investigated. 
"It's premature for us to be commenting on it," Jamieson told Mic in a phone interview. He also declined to comment on whether or not Hickey had been arrested. "Once the investigation is complete, it will be sent to the prosecutors for consideration," he said.
*This story has been updated 6 pm, June 10.