New Comic Honors Prince on What Would've Been His 58th Birthday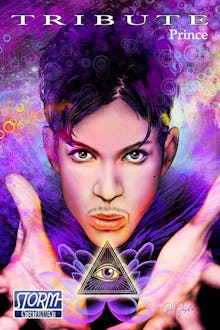 In life, Prince was basically a superhero. He had a wardrobe of some of the flyest and flashiest costumes that ever dazzled a music fan. He could play just about any instrument beautifully. He was an acrobat onstage and a songwriting genius off. In death, it only makes sense the Purple One would be honored with his own comic book.
Earlier this week, to celebrate what would have been Prince's 58th birthday, Storm Entertainment released Tribute: Prince, a comic honoring the mythic, genre-bending genius. Over 24 pages, it covers Prince's "meteoric rise to dominance in the pop/funk music scene," according to a press release, all the way up to his tragic end.
The publisher has released similar comics honoring John Lennon, George Harrison, Whitney Houston, Amy Winehouse, Michael Jackson and David Bowie. But Prince seems to hold special significance for the publisher and the comic's author, Michael L. Frizell.
"His sound and lyrics defined the era for me in ways that Michael Jackson didn't and, quite frankly, couldn't," Frizell said in a press release. "The subjects of his songs spoke to me in ways I didn't understand until I was older, but the dark poetry of them compelled me to keep listening. To this day, my iPod is full of his work, and I listen to it as I write."
Storm Entertainment's president Darren G. Davis weighed in on his hopes for the comic as well: "I hope readers come away with not simply a sense of the richness of his life, but how he influenced practically every artist that came after; regardless of genre."
The comic adds to an ever-growing list of tributes from influencers across music and the arts. Tuesday, Questlove penned an epic feature on Okayplayer, ranking every one of Prince's Warner Bros. Records albums. Tidal added 15 more of the legend's rarer albums to their catalog. And the governor of Minnesota officially declared Prince's birthday, June 7, as Prince Day, which may be the blackest thing to ever happen in the state.
Sample a few more pages from inside the comic here.
Read more: