The Coolest Teens of 2016 Promposed to Their Dates With These Dank Memes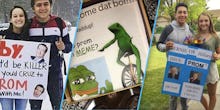 When Maxine, a 17-year-old junior in high school, met her boyfriend, "what had happened was, we shared a connection with three things: music, dogs and memes."
So when her boyfriend promposed to her — an endearing portmanteau of proposal and prom — he used a tenderly crafted dat boi meme, that ubiquitous cartoon frog on a unicycle. "here come dat boi!!!! o shit waddup! Go to prom with MEME?" it read. (He gave her chocolates, too.)
Meme promposals were everywhere this season 
Nothing says "You are the apple of my eye, want to grind with me on the dance floor?" like a Ted Cruz conspiracy theory or a sad amphibian. 
Maxine said that she knows "for sure" that this wasn't the only meme promposal she'd seen. 
"As internet humor starts to expand to where everyone gets the concept of memes, it's no surprise somebody is going to make a promposal out if it," she said. 
Dat boi is one of two memes that have dominated web culture in 2016. The other is Pepe, a cartoon frog that was popularized on 4chan and became a favorite of Donald Trump's young internet fandom.
According to Tyler, a junior in high school, Pepe the frog is the only acceptable promposal. When I asked him why, he said, "Bc memes r life." 
I asked Tyler if Pepe and dat boi were big with high schoolers. "Omg yes," he said. He added that Spongebob was also popular. 
So why prompose with a meme? What's so special about the cartoons?
"It's more unique than the basic flash mob or huge sign with a pun on it!" Maxine said. 
Teens are more tech-savvy than ever
It's not just meme culture that's influencing teens' romantic gestures — it's their phones. The average age when a kid gets their first smartphone is now 10.3 years old.
Mickey George, an 18-year-old senior in high school, asked his prom date out via Tinder. He said that most promposals are funny, so he figured asking over Tinder would be the funniest way to do it. Also, he didn't have her number. 
"I matched with her, and I went to school with her all of high school, and I knew she didn't have a date," Mickey said. "She took all online classes, and I figured, since I couldn't ask her in person and I didn't have her cell number, I may as well ask her over Tinder." 
Promposals get more elaborate every year
Another high school senior, who calls herself Evil Queen, shared a Google Maps scavenger hunt, texting clues to surprise locations in the style of Gossip Girl. 
Lauren McCool, a senior in high school, said her boyfriend rented out an entire movie theater to ask her to prom. He gave the owners his laptop and had them run a short movie he made on the projector. 
The year before, McCool said, she promposed to her boyfriend with a South Park meme. 
And o boi, were there a lot of memes in 2016
Here's Ted Cruz as the Zodiac Killer. 
The Bernie-Hillary meme made an appearance.
It got political.
There were so many Snapchats.
And straight up SMS to the heart.
There were barcodes!
And regular email.
Spotify, too.
Emojis — a classic.
Hibachi tables. Why not?
Local news stations.
Pyrotechnics.
Even gaming systems.
Roller coasters.
Times Square Jumbotrons.
What's the response like?
Maxine said her promposal's feedback was "purely positive." 
People called it genius. Hilarious. They responded with one word: "goals."