The Real Reason You Shouldn't Let Anyone Shame Your Uniqlo Shopping Habit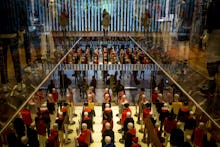 There are problems with fast fashion. There truly are. Underpaid garment manufacturers, literal tons of wasted product every year, and outsized effects on the environment. But when it comes to quality, at least there's one brand that you don't have to worry about: Uniqlo, the Japanese manufacturer well on its way to overtaking behemoth one-time favorites like Gap and American Apparel.
Last week, in an announcement detailing that he was an incoming artistic director of Uniqlo, designer Christophe Lemaire compared the quality of the Japanese company's knits to that of a luxury Parisian brand. "The knitwear at Uniqlo is not that far off from Hermès," he told the Business of Fashion. And he would know; Lemaire served as the artistic director of the brand's womenswear line for four years.
Read more: Dupes Are the Legal Problem That May Be Lurking in Your Closet
Lemaire knows quality. After making a name for himself as artistic director of Lacoste, the designer went and replaced the legendary Jean Paul Gaultier at Hermès. It was his work during his tenure at Lacoste that got the designer the top slot at Hermès when Gaultier left.
But in 2014, Lemaire left the brand to focus on personal projects which included a brand under his own line with partner Sarah-Linh Tran. That line (which does have a bit of a knit focus for apparel) saw tremendous growth that almost doubled its turnover from 2013 to 2014. Last year Uniqlo, a brand known for its minimalistic basics, came calling and brought Lemaire on board for a massively successful collaboration.
For some, Uniqlo, which was started in 1974, represents a different type of fast fashion. The brand is not predicated on swiping designs from the runway as soon as possible, which is what happens at brands like Zara, H&M and Topshop, but instead churns out the "lifewear" we all seem to need: simple jeans, monochromatic cardigans and utility focused undergarments from its over 1,700 stores worldwide (with 45 in the U.S. and counting). 
Their insulated Heattech line of undergarments is consistently a best seller. But for most, as with other fast fashion brands, the price point makes the company's garments easily replaceable; the Fast Retailing-owned store chain perpetuates the idea of buying clothes for the short term as opposed to building a long lasting wardrobe.
This notion brings with it the idea of the absence of quality as the industry has begun to claim "luxury takes time." By Lemaire's own admission though, Uniqlo may have found a way around this. For him to compare Uniqlo's knits with those of Hermes, he debunks the notion that there is a direct correlation between price and quality. And with his high level design experience, newly opened research and development center in Paris and impending Uniqlo U line set to be unveiled during Paris couture week in July, things only seem to be looking up from here.