Oregon Court Allows Resident to Identify as Nonbinary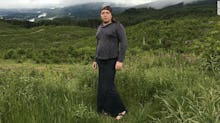 A judge in Oregon has ruled that Jamie Shupe, a resident of the state who does not identify as male or female, can now legally be referred to as nonbinary. According to CNN, experts think that it's likely the first ruling of its kind in the state.
On Friday, Judge Amy Holmes Hehn ruled that 52-year-old Shupe's sex, which was male at birth and female after Shupe transitioned in 2013, could be legally changed to nonbinary.
Nancy Haque, the co-executive director for Basic Rights Oregon, told the Oregonian that the ruling represented a "momentous day for genderqueer Oregonians."
"It's really exciting for the courts to actually recognize what we know to be true: gender is a spectrum," she said. "Some people don't identify as male or female."
After retiring from the military as a first class sergeant in 2000, Shupe began transitioning to female in 2013. Soon it became clear that female didn't feel like an exact fit, either, so Shupe opted to go by "Jamie," a gender-neutral first name, in lieu of a pronoun.
"I was assigned male at birth due to biology," Shupe said. "I'm stuck with that for life. My gender identity is definitely feminine. My gender identity has never been male, but I feel like I have to own up to my male biology. Being nonbinary allows me to do that. I'm a mixture of both. I consider myself as a third sex."
According to civil rights attorney Lake J. Perriguey, Oregon law has allowed individuals to petition the court for a gender change for years — the operative word being "change". 
But Shupe is the first in the state's history to petition for the "nonbinary" classification, and also the first to receive it, Perriguey said.
Read more: