Judge Aaron Persky Once Let Accused Rapists Use Revealing Photo Of Victim in Court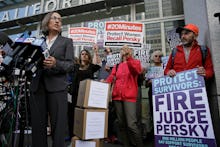 Judge Aaron Persky, the Santa Clara County, California judge who drew national headlines after sentencing convicted Stanford university sex offender Brock Turner to just six months in jail, once permitted the defense team in a gang-rape case of a high school student to show revealing photographs of the 17-year-old in court, the Guardian reported.
According to the Mercury News, during the victim's 2011 civil suit against the alleged rapists who were members of the De Anza College baseball team, Persky permitted the defendants to display one photo of the woman "offering a college baseball player a drink — by nestling a shot glass full of liquor in her exposed cleavage." Another photo featured "the young woman at the same party, with a group of men looking on, making a hand gesture signaling oral sex on a female."
Three female soccer players from De Anza said they rescued the victim from a gang rape while she was mostly unconscious and covered in vomit during a party in 2007. In court, defense attorney Alison Crane used the photos to attack the victim's credibility, the Mercury News reported:
"Did you have PTSD when you did the acts shown in these pictures?" attorney Alison Crane scornfully asked the young woman, who has claimed she had post-traumatic stress disorder.
According to the Guardian, "Four of the defendants settled, three had charges dismissed and two went through the trial and were found not liable by the jury."
Authorities never brought criminal charges. One of the plaintiff's lawyers, Monica Burneikis, told the Guardian she found it additionally "shocking" to see Persky overturn a prior ruling that the defendants could plead their Fifth Amendment right to not testify but would be prohibited from testifying in a later portion of the case.
Persky's leniency in the Brock Turner case has caused speculation as to why a judge who focused on prosecuting sexual assault while working for the Santa Clara County District Attorney and served as a board member for the Support Network for Battered Women would give such a light sentence to Turner. Though Turner was found guilty of "assault with the intent to commit rape of an unconscious person, sexual penetration of an unconscious person and sexual penetration of an intoxicated person," reported the L.A. Times, he received just six months' jail time and three years of probation.
Read more: One Horrifying Quote From the Brock Turner Case Shows Rape Culture Is Alive and Well