Here's Everything We Know About the Man Who Shot Christina Grimmie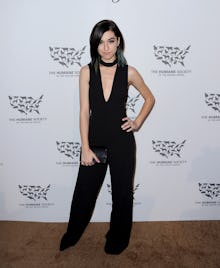 UPDATE: Police have identified the suspect as 27-year-old Kevin James Loibl.
The man who killed Christina Grimmie didn't know her personally, according to authorities.
During a news conference, Orlando Police Chief John Mina said that the suspect, who fatally shot Grimmie outside of The Plaza Live in Orlando shortly after she had finished a performance, has been identified as a 27-year old white male.
"She was doing a meet-and-greet, just signing autographs and selling merchandise. This white male approached her and opened fire, striking her," Mina said, according to the Associated Press. "We believe he came here to commit this crime."
Mina said that the suspect was carrying two handguns, two loaded magazines and a hunting knife at the time of the attack.
Though they said that they weren't aware of any stalking, detectives also said that they were in the process of searching the suspect's cell phone and social media accounts for information about why 22-year old Grimmie may have been targeted.
Immediately following the shooting, Grimmie's brother, Marcus, tackled the suspect, who fatally shot himself during the scuffle. Mina called Marcus' actions "heroic" and said that he "definitely could have prevented further loss of life."
Grimmie first rose to fame during the sixth season of NBC's "The Voice," where she competed on Maroon 5 star Adam Levine's team.
Authorities said during the press conference that although the event had staffed unarmed guards to conduct bag searches and pat downs at the concert entrance, the venue was not equipped with metal detectors.
June 11, 2016, 5:00 p.m.: This story has been updated to include the suspect's name.