Orlando Mass Shooting at Pulse Gay Nightclub Leaves at Least 50 Dead, 53 Wounded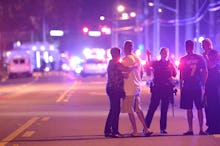 Orlando Mayor Buddy Dyer has confirmed that a mass shooting at Pulse — a gay nightclub in Orlando, Florida — left at least 50 dead and 53 wounded, ABC News tweeted, making it the deadliest mass shooting on American soil in modern U.S. history.
The nightclub shooter, who wielded "an assault-type rifle and a handgun" and "took hostages," died in a "gunfight with SWAT officers," the Associated Press reported. 
CBS News first reported that the nightclub gunman had been identified as 29-year-old Omar Mateen by police sources. Law enforcement officials reportedly later gave the same name to the Los Angeles Times. 
"We are saying we are apologizing for the whole incident. We weren't aware of any action he is taking," Mir Seddique, Mateen's father, said in a phone interview with NBC News. "We are in shock, like the whole country." 
"This had nothing to do with religion," Seddique added, claiming instead that his son was angered by the sight of two men kissing in downtown Miami.
NBC News reported that, according to sources, Mateen called 911 and pledged his allegiance to the leader of the Islamic State group, also known as ISIS, just moments before carrying out the shooting. According to a CNN broadcast, this phone call was the impetus of the FBI's initial suspicion that the attack was motivated by Islamist terror. The shooter also mentioned the Boston Marathon bombing in the 911 phone call, CNN reported.
Business Insider later reported it is unclear whether the terrorist group instructed Mateen to attack Pulse.
"Some survivors escaped under cover of what the police called two 'discretionary explosions,'" the New York Times reported.
Orange County Sheriff Jerry Demings said, "This is an incident, as I see it, that we certainly classify as domestic terror incident," according to the AP.
Danny Banks, an agent with the Florida Department of Law Enforcement, confirmed that the Pulse massacre "is being investigated as an act of terrorism," according to the AP. "Authorities are looking into whether this was an act of domestic or international terror, and if the shooter was a lone wolf," AP reported Banks said.
When asked, Ronald Hopper, an FBI agent, said officials "have suggestions that individual has leanings towards [radical Islamic terrorism]," according to the AP.
The New York Times reported President Barack Obama said the FBI is investigating the attack as "an act of terror."
"I heard 20, 40, 50 shots," said Jon Alamo, a nightclub patron who told the AP he was at Pulse when the mass shooting took place. "The music stopped."
"I was thinking, are you kidding me? So I just dropped down. I just said, 'Please, please, please. I want to make it out,'" said Christopher Hansen, a Pulse patron who told the AP he was in the nightclub's VIP lounge when the shooting started. "And when I did, I saw people shot. I saw blood. You hope and pray you don't get shot."
At 2:09 a.m. Eastern on Sunday, the nightclub posted to its Facebook page that everyone currently at the club needs to "get out of Pulse and keep running."
Pulse describes itself as "Orlando's hottest gay bar" on its website. The shooting took place during "Upscale Latin Saturday," which Pulse celebrates weekly. 
According to the Daily Beast citing USA Today, club owner Barbara Poma's decision to open Pulse was spurred by the death of her brother due to complications from AIDS.
The mass shooting at the gay nightclub took place 12 days into LGBT Pride Month, which takes place every June in America to honor the Stonewall riots that most attribute as the catalyst for the gay rights movement in the U.S.
Read more: In Wake of Orlando Mass Shooting at Gay Nightclub, the Internet Begins to #PrayForOrlando
This is a breaking news story and will be updated as more information becomes available.
June 12, 2016, 5:14 p.m. Eastern: This story has been updated.
Correction: June 12, 2016