Omar Mateen Identified as Suspect in Orlando Mass Shooting at Pulse Gay Nightclub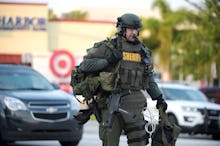 At least 50 people are dead and more than 50 others are injured after a gunman entered Pulse, a gay nightclub in Orlando, Florida, and opened fire, first on patrons and staff and then on responding law enforcement personnel.
Law enforcement sources told CBS News they have identified the suspect as Omar Mateen, a U.S. citizen from Port St. Lucie, Florida, who was born to Afghan parents in 1986. The LA Times' Matt Pearce confirmed authorities had given the name to the paper's D.C. bureau as well.
In an interview with NBC News, the suspect's father, Mir Seddique, apologized and said the massacre had "nothing to do with religion." Instead, he said, the shooting may be tied to an incident several months ago, when Mateen became enraged upon seeing two men kissing in Miami.
"At this point, this is an incident, as I can see it, we can certainly classify as a domestic terror incident," Orange County Sheriff's Office spokesman Jerry Demings said, according to CBS News.
Read more: Pulse Nightclub Shooting: Police Tentatively I.D. Mass Shooting Suspect As Omar Mateen
This is a breaking news story and will be updated as more information becomes available.
June 12, 2016, 11:10 a.m. Eastern: This story has been updated.
Correction: June 12, 2016