After Pulse Nightclub Shooting, Twitter Calls Out Hypocrisy of Ban on Gay Blood Donors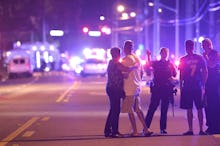 There's a lot that's troubling about Sunday morning's mass shooting at Pulse, a gay nightclub in Orlando, Florida. One of those things is the fact that many victims need blood transfusions and many of their loved ones won't be able to help, because the Food and Drug Administration currently bars men who've had sex with another man in the past year from donating blood. 
In December 2015, the FDA revised its recommended donation deferral period from lifelong to a year, sparking outrage within the LGBT community, which largely identified the ban as discriminatory. Ostensibly, the proscription exists as a means of lowering HIV transmission rates, but opponents question the FDA's logic.
"While many gay and bisexual men will be eligible to donate their blood and help save lives under this 12-month deferral, countless more will continue to be banned solely on the basis of their sexual orientation and without medical or scientific reasoning," the National Gay Blood Drive said in a statement, according to the Washington Post. The FDA, on the other hand, said its decision reflected "sound science."
Sunday's mass shooting is the largest in history to happen on American soil, Orlando mayor Buddy Dyer having placed the death toll at 50 thus far, with over 50 people wounded. O negative, O positive and AB blood donors are urgently needed at area hospitals, according to the Orlando Sentinel. 
The irony of keeping many gay men from helping out in the wake of an attack on a gay nightclub has not been lost on Twitter.
Despite the ban, donation lines in Orlando are long — one Twitter user shared video footage of people queued up for over a block to give blood, pointing out that "some good," at least, comes in the wake of a tragedy.
Rumors that the ban had been temporarily lifted would appear to be false. The phone lines at OneBlood's Orlando centers are busy, but in a tweet, the donation organization confirmed that the FDA's recommendations remain in place.
The shooter has been identified as Omar Mateen, a 29-year-old man from Port St. Lucie, Florida. The incident is being investigated as an act of terror, but Mateen's father has insisted that the motivation wasn't at all religious. Rather, he said, Mateen's would seem to have been a hate crime. According to his father, he acted out of extreme anger at seeing two men kiss in Miami some months back.
Read more:
June 12, 2016, 1:06 p.m. Eastern: This article has been updated to address rumors that the FDA's donation ban had been lifted.