Pulse Nightclub Shooting Leaves At Least 50 Dead, Orlando Mayor Buddy Dyer Says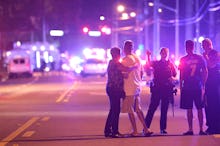 The mass shooting at Orlando, Florida, gay nightclub Pulse has left at least 50 people dead and more than 50 wounded, Orlando Mayor Buddy Dyer told reporters Sunday morning. 
A death toll of 50 would place the Pulse nightclub massacre as the deadliest mass shooting in modern U.S. history.
Law enforcement sources have tentatively identified the shooter as Omar Mateen, a 29-year-old Port St. Lucie man born to Afghan parents. In an interview with NBC, the shooter's father said the shooting may have been motivated by his son's bigoted views against gay people.
Read more:
June 12, 2016, 5:45 p.m. Eastern: This post has been updated.