Hundreds Line Up to Donate Blood in Wake of Pulse Nightclub Massacre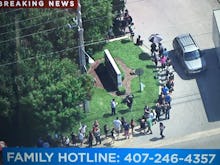 Hundreds of people have showed up to donate blood in the wake of a mass shooting at Pulse, a gay nightclub in Orlando Florida, which killed at least 50 people and wounded more than 50 others on Sunday morning.
After OneBlood issued an urgent request for blood donations to help care for the victims of the incident, concerned citizens formed long lines to do their part.
At least six separate donation sites are seeking blood in the wake of the attack, reported the Guardian.
Authorities are currently investigating the shooting as an act of terrorism. Alleged gunman Omar Mateen's father, Mir Seddique, told NBC News the crime may have been motivated by his son's hatred of gay people.
The lives taken on Sunday can never be replaced. But as several Twitter users noted, it's heartening to see so many Floridians and others lining up to help.
Read more: In Wake of Orlando Mass Shooting at Gay Nightclub, the Internet Begins to #PrayForOrlando
June 12, 2016, 5:45 p.m. Eastern: This story has been updated.