GoFundMe for Orlando Shooting Victims Has Raised Over $3.3 Million — And Counting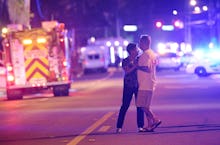 Equality Florida, the state's biggest LGBT civil rights organization, has started a GoFundMe campaign to raise money for the victims of Pulse nightclub's mass shooting early Sunday morning, which left at least 50 dead and 53 wounded. 
After quickly exceeding their $100,000 target, the campaign upped the goal to $500,000, which too was quickly surpassed, prompting them to create a new goal of $1 million. The cycle repeated itself and, after meeting their goal, they upped it to $1.5 million and then $2 million. As of this writing — two days into the campaign — the total has exceeded $3.3 million and has an updated target of $5 million. 
The campaign has broken many records for GoFundMe, as shared on Twitter by Dan Pfeiffer, the company's vice president of communications and policy. GoFundMe also donated to the campaign itself.
The Orlando shooting is the deadliest in modern U.S. history.
"We are heartbroken and angry that senseless violence has once again destroyed lives in our state and in our country," the GoFundMe campaign page reads. It was set up by Ida Eskamani, Equality Florida's development officer.
"Gay clubs hold a significant place in LGBTQ history," the description continues. "They were often the only safe gathering place and this horrific act strikes directly at our sense of safety. June commemorates our community standing up to anti-LGBTQ violence at the Stonewall Inn, the nightclub that has become the first LGBTQ site recognized as a national monument."
Equality Florida said it would not conjecture the motive of the attack and will wait for more information to be released, concluding simply, "We stand in solidarity and keep our thoughts on all whose lives have been lost or altered forever in this tragedy."
June 14, 2016, 12:51 p.m. Eastern: This story has been updated.