Pulse Nightclub Shooting Suspect Omar Mateen May Have Been Inspired By ISIS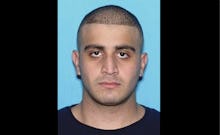 Omar Mateen, the primary suspect in a mass shooting at gay Orlando nightclub Pulse that killed at least 50 people and wounded over 50 others on Sunday morning, had previously attracted the attention of law enforcement agencies and may have ideological ties to the Islamic extremist group ISIS, multiple sources reported.
One report on CNN stated the gunman called 911 "to pledge allegiance to ISIS and mention the Boston bombers," per one U.S. official.
According to CBS News, Mateen "was on law enforcement radar in [the] last five years." CNN reported the 29-year-old "was known to the FBI, the officials said — one of hundreds of people on the agency's radar suspected of being ISIS sympathizers."
That account was mirrored by reporting by the Daily Beast, which wrote "Mateen became a person of interest in 2013 and again in 2014. The FBI at one point opened an investigation into Mateen but subsequently closed the case when it produced nothing that appeared to warrant further investigation."
Rep. Adam Schiff, the ranking member of the House Permanent Select Committee on Intelligence, issued a statement: "This attack is so painfully reminiscent of the terrible attack at the Bataclan Theatre in Paris, and other ISIS-inspired attacks in recent years. The fact that this shooting took place during Ramadan and that ISIS leadership in Raqqa has been urging attacks during this time, that the target was an LGBT night club during Pride, and - if accurate - that according to local law enforcement the shooter declared his allegiance to ISIS, indicates an ISIS-inspired act of terrorism. Whether this attack was also ISIS-directed, remains to be determined."
According to CBS News, however, ISIS has not claimed credit for the attack.
Mateen's father, told NBC News, "We weren't aware of any action he is taking. We are in shock like the whole country." He added the attack may have been motivated in part by an incident months before in which Mateen became enraged upon seeing two men kissing in Miami.
An ex-wife of Mateen says he was abusive. According to progressive site ThinkProgress, Mateen had licenses to own firearms and carry a concealed weapon.
This is a breaking news story and may be updated as more information becomes available.
Read more:
June 12, 2016, 1:48 p.m. Eastern: This post has been updated.