Pulse Nightclub Shooting Prompts a Powerful Message From the President of American Islam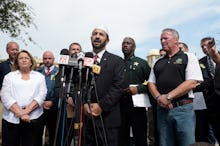 "I'm here today to stand as a faith leader with our law enforcement community and our city leadership in this hour of horror," Imam Muhammad Musri, the President of American Islam and the Islamic Society of Central Florida, said in a news conference outside Pulse nightclub in Orlando, Florida, the site of the deadliest mass shooting in the country's history. 
Early Sunday morning, suspected gunman Omar Mateen used an assault rifle and handgun to fire at the crowd in the gay nightclub killing 50 and injuring at least 53. Mateen's father has said that his son was likely not motivated by religion but homophobia. But, reports suggest Mateen had ideological ties to ISIS. 
"It's a horrible tragedy," Musri said. "We are mourning, we are sad, we are heartbroken." 
On its website, American Islam describes itself as an organization composed of "Americans against terrorism and racism." 
"[It] is a national organization representing and working to empower moderate American Muslims by providing them with religious, educational, social, financial, and advocacy services, and outreaching to the U.S. population, media, and government with the true peaceful message of Islam," the site adds. 
Musri turned the conversation away from religious persecution of Muslims, instead directing it to America's gun violence epidemic. 
"We hope this will be the last of the mass shootings that our country has been going through," he added. "I think, as a nation, we need to look at this issue of mass shootings because we've just had one too many today — and I think we should do something about it to stop the mass shootings that are happening over time."
He's been active on social media Sunday, sharing thoughts and photos from the site of the attack, where Musri has remained offering support, imploring people to share information about the shooter and commending law enforcement for their efforts. 
"I want to also caution many in the media from rushing to judgement and from sensationalizing the story because we do not want the story to be shifted from the focus of what it is: It's a horrible tragedy," Musri concluded.