After the Orlando Shooting, a Muslim Man's Post Is Going Viral for the Best Reason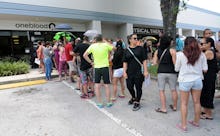 Hours after a gunman opened fire early Sunday morning on an Orlando, Florida, gay nightclub, leaving at least 50 dead and 53 injured, the city's blood donation centers were flooded with volunteers.
Among those looking to help was Mahmoud ElAwadi, a self-described "a proud Muslim American" in the midst of a Ramadan fast who wrote about his experience in a Facebook post that's gone viral. 
ElAwadi described "watching thousands of people" bake in the sun for hours on end in order to donate blood. He was inspired, he said, watching people of all ages come together to help, from the kids handing out fluids and food and sun protection to the war veterans to a Muslim woman in a hijab distributing supplies to those waiting to donate. 
That's what makes this "the greatest nation on Earth," he wrote.
"Yes together we will stand against hate, terrorism, extremism and racism," ElAwadi wrote. "Yes our blood all look[s] the same so get out there and donate.
"Yes our community in central Florida is heartbroken but let's put our colors, religions, ethnicity, sexual orientation, political views all aside so we can UNITE against those who are trying to hurt us."
He tagged his post "feeling determined."
Shortly after Omar Mateen was named as the suspected shooter, reports surfaced he had ties to the Islamic State group, which has since claimed responsibility for the attacks on the Pulse nightclub. The link has prompted a surge in Islamophobic sentiment.
In his response to the shooting, presumptive Republican presidential nominee Donald Trump tweeted "we can't afford to be politically correct anymore." The suspect's father insists his son was motivated by outrage at seeing two men kiss, but online, the incident is increasingly attributed to religion. 
ElAwadi's post, which has at time of this writing received 15,000 likes and 10,000 shares and numerous words of support. One Facebook user called him "an American hero." ElAwadi likened receiving such a compliment to "earning a Purple Heart medal."
"[You] can never imagine how hard I worked the last 14 years to be told I'm an American," he wrote. "Let's pray for our heroes and their families, let's pray for our men and women in uniform who are giving up their lives to give us the freedom we have today. God bless America, God bless all mankind."