Suspected Pulse Nightclub Shooter's Ex-Wife to 'Washington Post': "He Beat Me"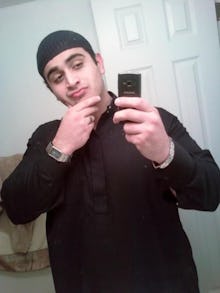 The ex-wife of 29-year-old Omar Mateen — the suspected lone gunman who opened fire at a gay Orlando, Florida, nightclub — said her ex-husband was mentally unstable and physically abused her during their marriage.
"He was not a stable person," the woman, who spoke anonymously, told the Washington Post. "He beat me. He would just come home and start beating me up because the laundry wasn't finished or something like that."
She told the Washington Post she and Mateen met eight years ago online, and she moved to Florida to be with him. Once her parents caught wind of the abuse, she said, they flew down to Florida and forcibly removed her from the house.
"They literally saved my life," she told the Washington Post.
While the FBI has not publicly identified Mateen as the attacker, his father, Mir Seddique, gave a statement to NBC News saying he and his family were "apologizing for the whole incident."
Seddique told the network that his son, who had a 3-year-old son of his own, became enraged after he witnessed two men kissing in downtown Miami recently. He said he did not believe that the attack had been motivated by religion.
Read more: