Man With Guns in Car Arrested, Reportedly in Town for LA Pride Parade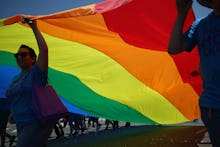 A man with guns, ammunition and possible explosives in his car was arrested in Santa Monica, California, early Sunday morning, the Los Angeles Times reported. He was allegedly planning to go to the Los Angeles Pride parade, according to the paper.
Santa Monica police approached the man near Olympic Boulevard and 11th Street after receiving a call about a suspicious individual. After the suspect said he was waiting for a friend, authorities searched his car and found the weapons and ammunition, according to the LA Times. Authorities also found tannerite, a substance that is often used to make pipe bombs. The investigation has been turned over to the FBI, the paper reported.
There is no known link between the man's arrest and the mass shooting at Pulse nightclub in Orlando, Florida, which killed at least 50 people and left more than 50 injured. 
Los Angeles authorities are beefing up security at the Los Angeles Pride Parade, West Hollywood City Councilwoman Lindsey Horvath said in a statement.
Read more:
June 12, 2016, 5:35 p.m. Eastern: This story has been updated.