Stacey Dash Praises Donald Trump, Slams President Obama in Wake of Orlando Shooting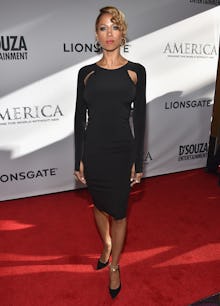 Stacey Dash used the killings of at least 50 people inside gay nightclub Pulse in Orlando, Florida, Sunday morning as an opportunity to praise Donald Trump and bash President Barack Obama. 
In the wake of the worst mass shooting in modern U.S. history, Dash, who has notably spouted anti-transgender opinions, insinuated that shooting suspect Omar Mateen was a registered Democrat and voted for Obama, and that a Trump presidency would be tough on Islamic terrorism.
Twitter uses were quick to call out Dash — who recently said trans people should use the bathroom "in the bushes" as to protect the safety of her children — for using the massacre as a moment to campaign for Trump and to remind her of her blatant hypocrisy.
Authorities have yet to release an official motive for the shooting. Mic recently reported Mateen became "enraged" after seeing two men kiss in Miami months earlier, according to a statement his father gave to NBC News. Mateen also reportedly had ties to ISIS.
Read more:
June 20, 2016, 1:55 p.m. Eastern: This story has been updated.