ISIS Claims Responsibility for Mass Casualty Attack at Gay Nightclub Pulse in Orlando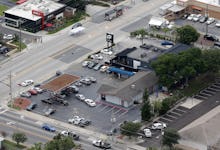 The Islamic State group, the infamous terror organization which has taken over large swathes of Iraq and Syria and orchestrated mass-casualty attacks against civilians in Paris and Brussels, Belgium, claimed responsibility for a massacre at gay nightclub Pulse in Orlando, Florida on Sunday.
Multiple sources reported ISIS claimed credit for the gun rampage, which killed at least 50 people and wounded more than 50 others when a man wielding an AR-15-like assault weapon and a pistol opened fire on the crowd, took hostages and then engaged police tactical teams in a firefight. Suspect Omar Mateen, who was killed by police, reportedly pledged loyalty to ISIS in a call to authorities.
ISIS issued the statement via affiliated news agency A'maq.
The statement of responsibility does not indicate ISIS had any prior knowledge or involvement in the planning of the Pulse killings. Terror organizations have an incentive to take credit for attacks in which they have little or no direct involvement for the purposes of boosting their own infamy. In this case, it's clear why the group would want to claim responsibility.
"Terrorism is primarily a form of communication," Rand Corporation senior adviser Brian Jenkins told LiveScience in 2010. "So in some cases, it's competitive, and then you have rival claims for a particular attack. In some cases there are false claims, where organizations take credit for operations they did not order to be carried out."
However, as New York Times al-Qaeda and ISIS correspondent Rukmini Callimachi explained on Twitter, the group has sought to encourage sympathizers in the Western world to launch terror attacks in their home countries.
After a December 2015 mass shooting in San Bernardino, California that resulted in 14 casualties, federal authorities discovered a Facebook post written by one of the attackers that professed allegiance to the leader of the Islamic State.
The post provided crucial evidence that alerted the FBI to the radicalization of the attackers, Tashfeen Malik and her husband, Syed Rizwan Farook. ISIS also claimed responsibility for the attack via the group's al-Bayan Radio channel, saying, "We pray to God to accept them as martyrs."
However, the FBI was never able to establish a direct link between the couple and ISIS.
While the shooter in Orlando may have been influenced by ISIS' ideology, his family says other factors played a role as well — such as homophobia.
"We weren't aware of any action he is taking. We are in shock like the whole country," Mateen's father, Mir Seddique, said in an interview with NBC News. "This has nothing to do with religion." 
Instead, he indicated his son's bigoted attitudes towards gay people may have been a motivation, relaying an incident several months ago in which Mateen became enraged upon seeing two men kiss in Miami.
President Barack Obama, in a statement to the nation, additionally sought to draw a connection between the attack and other mass shootings across the U.S. in recent years.
"The shooter was apparently armed with a handgun and a powerful assault rifle," Obama said. "This massacre is, therefore, a further reminder of how easy it is for someone to get their hands on a weapon that lets them shoot people in a school or in a house of worship or a movie theater or in a nightclub. And we have to decide if that's the kind of country we want to be, and to actively do nothing is a decision as well."
Brianna Provenzano contributed additional reporting to this article.
June 14, 2016, 9:15 p.m. Eastern: This article has been updated.