Here Are the Eyewitness Accounts of the Pulse Nightclub Massacre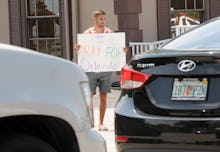 Early on Sunday morning a lone gunman, later identified by authorities as Omar Mateen, stormed a gay nightclub in Orlando, Florida and shot over 100 people. Of those victims, at least 50 have been confirmed dead.
In the aftermath of what the FBI is investigating as a domestic terror attack, gut-wrenching first-person accounts of the scene inside Pulse nightclub during the gunman's siege have emerged.
Here are some of the stories that have surfaced as families and wounded victims continue to mourn the lives that were lost and search for answers.
Ray Rivera, AKA DJ Infinite, was spinning reggae records when he heard gunshots.
Rivera told the Daily Beast that just after he had begun trying to wind the crowd down with his music selections, the gunman opened fire with an AR-15-style assault rifle. 
"I ducked behind my DJ booth," Rivera said. "People were running from the main room, out to the patio, which leads into the parking lot...It emptied out quickly. Basically everybody was just panicking ...  I looked inside and saw people were laying on the floor in the main club."
Rivera later made a break for the exit from behind the booth, and helped a woman escape with him.
Christopher Hansen, a clubgoer, potentially saved a man's life by staunching a gunshot wound with his bandana.
Hansen told CNN that he was lined up at the bar to get a drink when he first heard gunshots and "just saw bodies going down."
Hansen said that as he crawled towards the exit, he stopped to help a man who had been wounded.
"I took my bandana off and shoved it in the hole in his back," he said.
Christine Leinonen issued a heartbreaking plea for her son, Christopher, who remains unaccounted for. 
Christine Leinonen issued a plea searching for her son Christopher, who was at Pulse and hasn't been found. Christopher's boyfriend was reportedly among the wounded.
Patrons heard gunshots go off just as "everybody was drinking their last sip," Rob Rick told the Associated Press.
The outlet also quoted Jackie Smith, who said that the two friends next to her had been shot.
"Some guy walked in and started shooting everybody. He had an automatic rifle, so nobody stood a chance," Smith said. "I just tried to get out of there."
Mina Justice received chilling text messages from her son, Eddie, who was hiding in the bathroom when the gunman stormed in.
The texts included one that read, "Mommy I love you. In club they shooting," and a later text that read, "he's in [t]he bathroom with us," followed by silence. Eddie is still unaccounted for. 
Read more: Pulse Nightclub Shooting Suspect Omar Mateen May Have Been Inspired By ISIS