These Are the Names of the Victims of the Pulse Nightclub Shooting in Orlando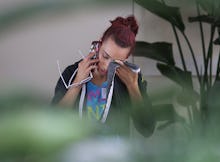 Authorities have begun to identify the 49 victims killed during a gun rampage and shootout with authorities at Pulse, a gay nightclub in Orlando, Florida, early Sunday morning.
Edward Sotomayor Jr., Stanley Almodovar III, Luis Omar Ocasio-Capo and Juan Ramon Guerrero were the first of the victims to be formally identified Sunday afternoon.
The city has set up a page to name the dead after next of kin have been notified.
"On this very difficult day, we offer heartfelt condolences to today's victims and their families," the city wrote on the page. "Our city is working tirelessly to get as much information out to the families so they can begin the grieving process. Please keep the following individuals in your thoughts and prayers. #PrayforOrlando."
The confirmed victims:
Edward Sotomayor Jr., 34
Sotomayor worked for ALandChuck.travel, a gay travel agency, and had just helped coordinate the first gay cruise to Cuba back in April, reported the Orlando Sentinel. On Sunday he was at Pulse with his boyfriend.
Stanley Almodovar III, 23
Almodovar's mother told the Orlando Sentinel that she had a snack waiting for him in the refrigerator for when he came home from Pulse on Sunday. The 23-year-old was a pharmacy technician who grew up in Florida — his mother described him as a "happy man with a big heart," reported the Sentinel.
Luis Omar Ocasio-Capo, 20
Ocasio-Capo, 20, who went by Omar Capo on Facebook, listed his work on his Facebook profile as "Dancing."
Juan Ramon Guerrero, 22
According to the Associated Press, Guerrero, 22, worked as a telemarketer and was also a student at the University of Central Florida. And he was in a happy relationship with his boyfriend, whom "his relatives came to regard as a member of the family." The two will share a joint funeral. 
Christopher Andrew Leinonen, 32
Leinonen's mother told ABC News he was an active member of the gay community, starting the gay-straight alliance at his high school and receiving a humanitarian award for it. His Instagram states he was a therapist, a vegan, a film nerd and a Gemini interested in Technology and culture. He will have a joint funeral with his boyfriend Guerrero. 
Eric Ivan Ortiz-Rivera, 36
Rivera, who went by Eric Ortiz, worked in merchandise management and had moved from Puerto Rico to Florida "to work his way up in his career and have a chance at a better life," reported the Orlando Sentinel. 
Peter O. Gonzalez-Cruz, 22
Twenty-two-year-old Gonzalez-Cruz went by Peter Ommy on social media, reported the Orlando Sentinel, and had, according to his Facebook, attended high school in New Jersey.
Luis S. Vielma, 22
Vielma worked at a Harry Potter-themed ride at Universal Orlando Resort, according to his Facebook page. On Monday, Harry Potter author J.K. Rowling shared an emotional tribute to 22-year-old Vielma on Twitter — to which one of his friends responded, saying that Vielma was a "Gryffindor."
Kimberly Morris, 37
Morris, who went by K.J., was working as a bouncer at Pulse when she was shot and killed on Sunday, reported the Orlando Sentinel. She had moved to Orlando "about two months ago," according to the Sentinel.
Eddie Jamoldroy Justice, 30
During the shooting, Justice, an accountant in Orlando, exchanged a series of text messages with his mother, Mina Justice, moments before his death. According to Heavy, Justice texted, "Mommy I love you" at 2:06 a.m., causing Mina to ask if he was ok. Justice told her that there was a shooting in the club and that he was trapped in the bathroom — and said he was going to die. 
His last text read, "Hurry. He's in the bathroom with us. He's a terror."
Deonka Deidra Drayton, 32
Drayton worked at Pulse and was known to those around her as Dee Dee, according to the Guardian. "My neice (sic) ... was killed in this horrible tragedy," Drayton's aunt Patricia Drayton Banks wrote on Facebook, the Guardian reported. "Senseless. She was at work !!! R.I.P Dee Dee. You know this Auntie will miss you." 
Anthony Luis Laureano Disla, 25
Disla, who used the drag name Alanis Laurell, graduated in 2010 from a university in San Juan, Puerto Rico, where he was born, according to Heavy. Using Disla's drag name, Facebook user Natalia Wynters wrote, "Although I didn't know her personally we had chatted a few times and she was always incredibly nice and inspiring to me."
Disla had attended Pulse with his cousin Lucas Daniel Acosta D'Oleo, who survived the shooting. Early Monday morning he wrote on Facebook in Spanish, "...My cousin Anthony Laureano has left me. I have an irreparable pain. I love you, cousin."
Jean Carlos Mendez Perez, 35
According to the Orlando Sentinel, Mendez was born in Puerto Rico and moved to the U.S. as a teen. He worked at the perfume store Perfumania in Orlando. 
"He laughed with the people and would make jokes," Mendez's coworker Claudia Agudelo told the Sentinel. "He was always happy.
It was at Perfumania where he first met his boyfriend Luis Daniel Wilson-Leon, who had also been at Pulse with him early Sunday morning. They were both killed in the shooting.
Luis Daniel Wilson-Leon, 37
Puerto Rico-born Wilson-Leon was a manager at a Florida shoe store. Daniel Gmys-Casiano, a decades-long friend of his, told the Orlando Sentinel he was the first person to whom Wilson-Leon came out. He later went on to have an eight-year relationship with Jean Carlos Mendez Perez, who he died alongside at Pulse on Sunday. 
"He's been dealing with hate all his life," said Gmys-Casiano. "We all have. I have. He never retaliated with hate. He was a very loving person. He was strong. He would stand to protect his friends."
Franky Jimmy Dejesus Velazquez, 50
According to Velazquez's Facebook page, he was born in San Juan, Puerto Rico, where he studied at Inter American University of Puerto Rico. In the U.S., Velazquez was a visual merchandiser for Forever 21. 
On the Facebook page "My pulse still beats," a memorial page to the victims of the Orlando shooting, it says Velazquez was also a professional Jíbaro dancer who traveled internationally. His friend Sara López said, according to the Facebook post, that when the friends Velazquez was with tried to grab him to escape Sunday's shooting, he had been pushed against the wall by the gunman, Omar Mateen. 
Amanda Alvear, 25
Alvear worked as a pharmacy technician, according to the Orlando Sentinel, and was planning on pursuing a career as a nurse. Just a couple days before her death, she had taken her nieces, the daughters of her brother Brian, who called her a "fashionista," shopping. 
He told the Sentinel, "She wouldn't want anyone to spread hate for her. She'd rather they spread more love, keep friends and family close, and have a good time doing it."
Alvear's friend Mercedez Marisol Flores had gone to Pulse with her and was also killed in the shooting.
Mercedez Marisol Flores, 26
According to her Facebook page, Flores, who was originally from Queens, New York, studied at Orlando's Valencia Community College and worked at Target. 
She attended Pulse with her friend Amanda Alvear, who was also killed early Sunday morning.
Martin Benitez Torres, 33
Torres studied at Sistema Universitario Ana G. Méndez in San Juan, Puerto Rico, according to his Facebook page. 
Before he was confirmed dead, Arlene J Cruz Torres called for "urgent prayers" to locate Torres in a Facebook post. Later she wrote, "I am heartbroken that a beloved friend got killed in this tragedy. Beautiful soul you definitely will be miss."
Xavier Emmanuel Serrano Rosado, 35
According to his Facebook page, Rosado was a performer for the interactive show Disney Live!
"Full of energy, always dancing and made people smile," his coworker Christopher Pogue wrote. "What hurts the worst is that he was a loving Father and left behind a son."
Gilberto Ramon Silva Menendez, 25
Originally from Puerto Rico, Menendez studied health care management at Ana G. Mendez University. During that time he worked at a sales associate at Speedway, a convenience store chain, according to a Facebook post by PJ Birriel A. Cruz. 
Simon Adrian Carrillo Fernandez, 31
Fernandez and his partner Oscar A. Aracena-Montero, who also died in the massacre, had returned home from vacation on Saturday. 
According a Facebook post from the couple's friend Samuel Vilchez Santiago's Facebook, the two were about to graduate from college and had just purchased their first home. Another friend, Norkis Fernandez-Valdez, wrote that Fernandez and Aracena-Montero had goals of becoming realtors. 
Oscar A. Aracena-Montero, 26
Aracena-Montero's friend Christian Turner called Aracena-Montero "one of the sweetest, most humble people" he's ever met. 
Darryl Roman Burt II, 29
A resident of Jacksonville, Florida, Burt was a financial aid officer at Keiser University in Fort Lauderdale and previously worked at Forever21 and McDonald's. Burt was also a member of the volunteer group the Jacksonville Jaycees. 
"He was the type of person that was always willing to help," the group's president Shawn DeVries told the Orlando Sentinel. "If someone needed anything he'd usually just ask for the details, where, when and what are the deadlines." 
Enrique L. Rios, Jr., 25 
Rios was visiting from Brooklyn to celebrate a friend's birthday. He had planned to head home Sunday in time for the New York City Puerto Rican Day Parade. 
On Sunday morning, his cousin Eric Perez got a call from one of Rios' friends telling him that Rios was in the club at the time of the shooting. Perez tried contacting Rios but was unsuccessful. 
"He didn't deserve this," Perez told ABC7 News. "There are probably other families who are going through the same thing but this was our family. I don't know what to do anymore."
Miguel Angel Honorato, 30 
Honorato was a husband and father of three children, according to Kelly Joyce of Fox 35's Facebook post. He was also an owner of four restaurants located around his home of Apopka, Florida. 
"Your family and community will make sure that they know who you were," Jessica Garcias wrote on Facebook about Honorato. "The community is deeply saddened by this news. You don't know how much we all love you."
Javier Jorge-Reyes, 40 
Jorge-Reyes originally hailed from the costal city of Guyana, Puerto Rico but lived in Orlando where he worked at Gucci, according to his Facebook page. 
"Your energy and love of life and of all things beautiful was infectious," Jorge-Reyes' friend Ray McGee wrote on Facebook. "Too many memories over the years, most of them involving shopping! But also many of them at Pulse."
Alejandro Barrios Martinez, 21
Joel Rayon Paniagua, 32 
Jason Benjamin Josaphat, 19
Josaphat called his mother from Pulse to report a gunman had opened fire in the venue, the Orlando Sentinel reported, and took shelter in one of the nightclub's bathrooms.
According to the Sentinel, Josaphat was a recent high school graduate and attending computer science classes at Valencia College. His additional interests included photography and working out.
Cory James Connell, 21
The gunman struck while Connell was leaving Pulse with his girlfriend, who survived the attack, reported CNN. He was studying at Valencia Community College with the expectation of becoming a firefighter.
"The world lost an amazing soul, today," Connell's brother, Ryan Connell wrote on Facebook on Monday, according to the Orlando Sentinel. "God just got the best of angels."
Juan P. Rivera Velazquez, 37
Velazquez co-owned D'Magazine Salon & Spa, a Kissimmee-based beauty salon, reported the Daily Beast, and "came to Florida from Puerto Rico."
Luis Conde, 39
According to the Tampa Bay Times, Conde was co-owner of D'Magazine Salon & Spa with Juan P. Rivera Velazquez. The duo had been in business together for a decade.
"They were both exceptional people," Lynette Conde, his sister, told the Times. "They were always helping each other."
Shane Evan Tomlinson, 33
A gifted lead vocalist for his cover band Frequency, the Orlando Sentinel reported, Orlando man and East Carolina University graduate Shane Evan Tomlinson performed at various clubs and weddings. Tomlinson had just finished a show at Blue Martini nightclub hours before the shooting.
"Videos of his performances show Tomlinson as an energetic lead man, belting out popular hit songs and almost always well dressed at shows in button-down shirts, ties and vests," the Sentinel wrote. "Frequency performed songs from the 1970s through 2010s with Tomlinson's smooth voice leading the way."
Juan Chavez Martinez, 25
Martinez listed his home as Huichapan, Mexico on Facebook, according to the Orlando Sentinel, and worked as a supervisor at Reunion Resorts. He lived in Davenport, Florida.
"I was a housekeeper and he was a supervisor," friend and former colleague Jose Crisantos told the Sentinel. "He was very well known among us as very kind and loving ... There was nobody else like him. It is a devastating loss."
Jerald Arthur Wright, 31
Wright worked at Walt Disney World as a seasonal merchandising staffer in the Magic Kingdom, and had also worked at Tomorrowland, the Orlando Sentinel reported. He was at Pulse to attend a birthday party.
"Jerry was a great guy to work with," former colleague Scott Dickison told the paper. "He was quiet but really wonderful with all the guests. He always had a smile on his face."
Leroy Valentin Fernandez, 25
Fernandez worked as a leasing agent in Orlando, reported the Orlando Sentinel, and was fond of singing, dancing and choreography.
His manager at Auvers Village Apartments, Yolanda Quinones-Perez, told the Sentinel "He filled our office with music. He sang Adele in the office until we couldn't take it anymore."
Tevin Eugene Crosby, 25
Crosby was a native of Statesville, North Carolina, reported WCNC, and attended West Iredell High School. He owned a small marketing business, Total Entrepreneurs Concepts.
"He was very ambitious," his brother, Chavis Crosby, told the Orlando Sentinel. "Whatever goal he had in mind, he worked hard. Whether alone or on a team, he worked on that goal."
Jonathan Antonio Camuy Vega, 24
Camuy, a Puerto Rican living in Orlando, worked for Telemundo as a journalist. "He was a great assistant producer and had been working with us since 'Yo Soy el Artista' and previously at Telemundo Puerto Rico," NBCUniversal Telemundo Enterprise's chairman Cesar Conde said in a statement. "Most recently, he was working in audience management in the current season of 'La Voz Kids.' Jonathan will be missed dearly." 
Jean C. Nives Rodriguez, 27
A first-time home owner and general manager of a local shop, friends described Rodriguez asa "big teddy bear" to the Orlando Sentinel. His family said they were devastated by their loss in Facebook post.
"Whatever you needed, you could count on him," his friend told the publication. "Whatever the situation was, good or bad, he was with me. He was a friend. He was family. He was a brother. And it didn't matter the time. If you called him and you needed help, he'd be there."
Rodolfo Ayala-Ayala, 33
Ayala was a biologics assistant working at the very location thousands of donors arrived at to give blood after the Orlando massacre. His friend told the Sentinel he was a Puerto Rican native known for his compassion and "doing things the right way."
Brenda Lee Marquez McCool, 49
McCool is a mother of 11 children, a survivor of breast cancer and a dedicated supporter of the LGBT community according to multiple reports. A lover of Salsa dancing, she frequented pulse with her 21-year-old son Isiah Henderson, who she reportedly saved during the attack.
"Brenda saw [Mateen] point the gun," her sister-in-law told the Daily News. "She said 'get down' to Isaiah and she got in front of him. She was shot dead. That's how much she loved her kids. If it weren't for her, [Isaiah would] have been shot."
Yilmary Rodriguez Solivan, 24
Solivan, whose friends called her "Mary," was the mother of two young children, the New York Times reported. She was with friends and family at Pulse on Sunday, posing for photographs before shots were fired. Her brother-in-law was also there and survived the attack, writing on Facebook her friend Camuy Vega had died trying to protect her
Angel L. Candelario-Padro, 28
Candelario-Padro was an ophthalmic technician and a Zumba instructor, the Tampa Bay Times reported. On his Facebook, the 28-year-old who moved to Orlando, Florida said he was "an adventurous, easy going but responsible man that would like to live the life completely."
Frank Hernandez, 27
Hernandez had been living in Orlando for three years and was working at a Calvin Klein in the area. His sister traveled twelve hours in the hopes to see him after his boyfriend called her to let her know he couldn't locate the 27-year-old. She had last seen him at her high school graduation, the Miami Herald reported.
Paul Terrell Henry, 41
Terrell Henry was a chicago native who loved watching people succeed — he was recently photographed at his daughter's graduation, who said, "I took care of him, and he took care of me. Such a loving spirit. I'll always have him in my heart." 
His boyfriend Francisco Hernandez said he would be completing his education thanks to Terrell Henry's influence. "He knew I had the potential for greater things," he told the Orlando Sentinel. "I had three years of college but didn't finish. He wanted the best for me, to succeed and to help me make something of myself."
Antonio Davon Brown, 29
Capt. Davon Brown of the U.S. Army Reserve joined the military when he entered his university's ROTC program. In 2008, he graduated from Florida A&M University with a degree in criminal justice, the Orlando Sentinel reported. He served as a human resources officer and was described as a "down to earth guy."
Christopher Joseph Sanfeliz, 24
"Everyone knows the bond that I had with my brother, we would finish each other's sentences, knew each other's thoughts, and could sense when the other was upset," Sanfeliz's brother wrote in a Facebook post dedicated to his brother. "He was so strong, and was my rock through everything we ever went through. He was the light of my family and I know that he will continue to bless us and his light will be radiating down from a better place."
Akyra Monet Murray, 18
Murray, a recent high school graduate and star basketball player, was set to attend college with a full scholarship for her sport, NBC10 reported. 
"Akyra was a superstar who was a leader amongst her classmates and teammates," her high school, West Catholic Prep, wrote on its website. "She was an honors student [who] graduated third in her class, and a 1,000 point scorer on the Lady Burrs basketball team. Akyra recently signed a letter of intent to play basketball at Mercyhurst College. May God bless Akyra's soul and provide comfort to all family and friends during this very troubling time."
Chris Riotta, Kathleen Wong, Marie Solis and Anna Swartz contributed reporting to this story.
Correction: June 17, 2016
Read more: