Donald Trump Issues Appalling Statement on Pulse Nightclub Massacre in Orlando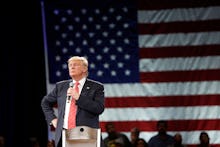 On Sunday, presumptive Republican nominee Donald Trump released a statement on the mass shooting at gay Orlando nightclub Pulse in the early hours of the morning.
At least 50 people died and another 53 were injured when a gunman opened fire on crowds and launched a gun battle with police tactical teams. The suspected shooter, 29-year-old Port St. Lucie man Omar Mateen, reportedly called authorities amid the rampage to pledge allegiance to the Islamic State group. ISIS subsequently claimed credit for the attack, though it is unclear the group's operatives had any contact with Mateen, who was born in the U.S., and his family has pointed out Mateen might have had homophobic motivations as well.
Trump's response to the attacks, however, seemed more fixated on the implications for him and his presidential run — and whether he "said this was going to happen" — than the victims of the rampage:
In his seven-paragraph statement, Trump wrote President Barack Obama "disgracefully refused to even say the words 'Radical Islam'" and called on presumptive Democratic nominee Hillary Clinton to "get out of this race" if she does not use his preferred nomenclature. The real estate mogul also blamed the attack on the "more than 100,000 lifetime migrants from the Middle East each year. Since 9/11 hundreds of migrants and their children have been implicated in terrorism in the United States."
The "terrorist, Omar Mir Saddique Mateen, is the son of an immigrant from Afghanistan," Trump continued.
If that wasn't clear enough, Trump reiterated the attacks were "just the beginning," and called attention back to his proposed "total and complete shutdown" of all Muslim entry to the U.S. as a solution.
LGBT people, the apparent target of the assault, were only mentioned once in the entire statement.
Through additional tweets earlier in the day, Trump congratulated himself for supposedly predicting the attack.
To Donald Trump, Sunday's tragedy is just another opportunity for him to boast about "being right" — and that he would like it very much if you just paid attention to him.
Read more:
June 12, 2016, 5:50 p.m. Eastern: This story has been updated.