Watch 'The Color Purple' Star Cynthia Erivo's Strikingly Beautiful Tonys Performance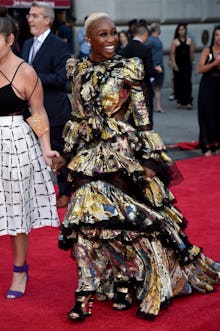 The 70th annual Tony Awards was filled with nods to the tragic shooting at Orlando, Florida, gay club Pulse that killed 50 people early Sunday morning. From host James Corden's opening dedication to ribbons on the red carpet to Hamilton creator Lin-Manuel Miranda's acceptance speech sonnet, Orlando was on everyone's mind.
One performance that wasn't specifically dedicated to the victims of the shooting, however, may have been the most powerful of all. The ensemble of Broadway's The Color Purple revival took the stage to perform a short medley. The performance ended with star Cynthia Erivo singing the show's signature number, "I'm Here."
In the show, Erivo's character Miss Celie sings it as a triumphant moment of self-realization — finally seeing herself as beautiful after being put down by people in her life for years. As a queer woman, she finally says to herself, "I'm thankful for loving who I really am. I'm beautiful."
As the shadow of Orlando hung over the Tonys, a performer who plays a queer character eight times a week sang about finding herself beautiful. The pride in that moment wasn't lost on viewers. In fact, it made Erivo's performance all the more meaningful.