The 2016 Tony Awards Paid Tribute to Orlando With These Translucent Ribbons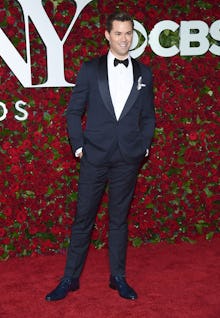 After a shooting at the gay nightclub Pulse in Orlando, Florida, left at least 50 dead and 53 wounded early Sunday morning, Broadway A-listers walked the red carpet at the 2016 Tony Awards sporting translucent white ribbons to honor the victims.
Stars such as Andrew Rannells, who temporarily played King George in Hamilton earlier this season, adorned their lapels with a somber reminder of the tragedy that took place earlier that day.
According to the Tonys' official Twitter account, the ribbons were created by the awards show as a sign of the theater community's solidarity with the city of Orlando.
"We wanted to open our arms and show love, that we understand," costume designer William Ivey Long told Page Six. "It's a sense of camaraderie and family. We made them in the basement and we're still making them. Our goal is 3,000."
In a statement earlier Sunday, the Tonys' Twitter account also tweeted, "Our hearts are heavy for the unimaginable tragedy that happened last night in Orlando," adding that the ceremony will be dedicated to the victims of the massacre. 
Read more: Orlando Mass Shooting at Pulse Gay Nightclub Leaves at Least 50 Dead, 53 Wounded