The Tony Awards' Opening Ceremony Paid a Touching Tribute to the Orlando Victims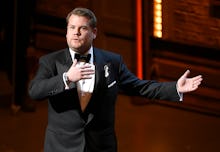 James Corden kicked off his hosting duties at Sunday's 2016 Tony Awards on a somber note: by paying tribute to the estimated 50 dead and 53 wounded during a mass shooting early Sunday morning at Pulse, a gay nightclub in Orlando, Florida.
"All we can say is you're not on your own right now... your tragedy is our tragedy," Corden said. 
"Theater is a place where every race, creed, sexuality and gender is equal, is embraced, and is loved. Hate will never win. Together, we have to make sure of that. Tonight's show stands as a symbol and a celebration of that principle."
In addition to Corden's remarks, stars paid tributes to the victims of the shooting by wearing translucent white ribbons as they walked the red carpet. The ribbons, which had been hurriedly produced by the Tony Awards, were designed as a symbol of "camaraderie and family," costume designer William Ivey Long told Page Six. 
Read more: