Vice President Joe Biden Responds to Pulse Nightclub Massacre: "Prayers Are Not Enough"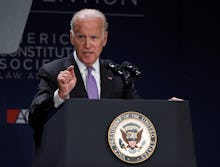 Vice President Joe Biden issued a statement Sunday evening on the shooting at an Orlando, Florida, gay nightclub that claimed the lives of at least 50 people and injured at least 53, making it the deadliest mass shooting on U.S. soil. Hours earlier, President Barack Obama spoke about the tragedy, urging unity, calling for gun control and blasting those who persecuted others on the basis of "race, religion or sexual orientation."  
Biden doubled down on Obama's message.
"Last night, at least 50 innocent people gathering to celebrate love and life were brutally killed in an act of pure hate and unspeakable terror," Biden said. "Scores of others were injured in the attack. They were our brothers and sisters; our friends, neighbors and loved ones."
Praising those who launched into action to help the victims, Biden offered "deepest condolences" for everyone affected. "But," he said, "our prayers are not enough to end these kinds of senseless mass shootings. The violence is not normal, and the targeting of our gay, lesbian, bisexual and transgender Americans is evil and abhorrent.
"Even as we grieve and pursue justice, no act of terror — no despicable act of hate — can tear us asunder. Times of unspeakable tragedy and evil like this are moments to remind the killers, and the world, of what is best in us, and what unites us."
While the White House hasn't named a definite motive of the attack, the suspected shooter — a 29-year-old man from Port St. Lucie, Florida, named Omar Mateen — reportedly alleged ties to the Islamic State group just before the attacks, for which the terrorist organization has since claimed responsibility. The link has provoked anti-Islamic sentiment online and from some prominent political figures.
Read more: