If You're not Putting Olives In Your Chocolate Chip Cookies, You're Doing It Wrong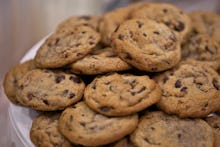 It's difficult to improve upon the classic chocolate chip cookie, especially when it's of the warm, gooey variety. 
And yet, Tilda All Day, a café in Brooklyn, has managed to do so with the addition of one unexpected ingredient. Olives make their way into the cookie batter, and it's not just some hipster hoax. 
While olives are seemingly more "appropriate" in a salad or a loaf of focaccia than a cookie, they serve as the saline counterpoint to the sweetness of the chocolate. The combination shockingly works. and adding olives is something worth trying the next time you bake up a batch of chocolate chip cookies yourself.
"I am a savory cook who happened to fall into baking, so I approach things the way a savory cook would," Claire Welle, the chef at Tilda All Day and the inventor of the cookie, said in an interview. "I look for anyway I can get the most flavor and saltiness into something and make it interesting and unique."
Sure, many bakeries and bloggers often top a chocolate chip cookie with flecks of salt, Welle said she was in search of an ingredient she could incorporate throughout the cookie, not just on top. "I think people see salt on something and immediately think that this is going to be really salty. I like to put the salt component all throughout the dough," she said. 
The reaction to the olive-spiked cookie was mixed at first. "People were very surprised we had even attempted something so 'abstract,'" Welle said. "We had to show them that we are just trying to use ingredients in a different way and make them versatile." She said "chocolate lovers" in particular are really drawn to the cookie. "They are pleasantly surprised that every few bites of the gooey, chocolate-y cookie there is this briny, salty punch." 
Before settling on olives, Welle explored a number of salty ingredients, including miso paste, pickles and even anchovies — this is not a recommended cookie ingredient. She uses black cured olives — which have no added vinegar to it — in the dough. 
Welle said she knew that those big, green Castelvetrano olives would not be a good fit because they were "too fruity," and Kalamata olives, the kind found in a Greek salad, were too briny.  Plus, the black cured olives come pitted, which is an absolute efficiency plus: "I was the only employee at the restaurant at the time that I came up with the recipe and I couldn't bear the thought of having to pit all of the olives."
The cookie — which  also has coffee grounds in the batter —  doesn't feature chocolate chunks mixed in with entire olives. "I like texture a lot, so I tried to figure out what is the biggest bite of olive I can have in the cookie where it would still taste balanced," she said. Welle hand chops the olives since "they get mushy in the food processor" before mixing them into the dough. 
Adding Olives to Your Favorite Recipe
While Kalamata olives didn't work for her recipe — the 64% bittersweet chocolate she uses in the dough doesn't pair well — Welle suggested adding them to a recipe that features traditional milk chocolate, or even a caramelized white chocolate. "Milk chocolate is creamy and not high in acid, which could help balance out the brininess of the olives," she said. "The more bitter a chocolate is, the more acidic it is, so you want to pair it with something that is not acidic." 
As for those interested in adding green olives to their cookie batter, she suggests pairing them with an Italian chocolate or even other savory ingredients like polenta. "The sky is the limit. Just be sure to remove the [olive] pits first."