Orlando's LGBTQ Community Gathers to Mourn After Tragic Pulse Shooting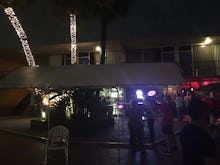 ORLANDO, Fla. — On Sunday, braving a torrential downpour and fear for their own safety, hundreds of members of Orlando's LGBTQ community gathered at Parliament House, a gay resort only a few minutes' drive away from Pulse, the site of the deadliest mass shooting in U.S. history. In the early hours of Sunday, 29-year-old Omar Mateen opened fire on revelers inside the club, killing 49 people and injuring dozens more. 
Stacks of free water bottles donated by a local hardware store greeted those who entered the open-air courtyard, where organizers had erected white canopies to shield from the rain. Flanked by walls of hotel rooms, Parliament House's sprawling layout includes a disco and lounge to the right of the entrance, a "bear den" in the back. 
Most attendees sported white ribbons pinned to their chests in commemoration of the victims. Some wore shirts bearing the date "6.12.16" or with Pulse's logo emblazoned on the front and back. The voices of Ariana Grande, Cher, Donna Summer and Whitney Houston filled the air. The mood was solemn but warm: Vigil-goers exchanged laughs and shared embraces. 
Attendees described the Orlando LGBTQ community as tight-knit family. The attack had them on edge. 
"When I decided to come here to the memorial, I started getting tense, the closer that I got to the club," Pablo Iturbe, 30, said in an interview. "I'm going to be in an exposed space. We don't know what's going to happen." 
The vigil lasted only a few minutes. Attendees held candles ensconced in plastic cups to catch wax. After a prayer, someone in the crowd shouted a reminder that Pool Party After Dark was coming in only two weeks. 
But vigil-goers remained for hours after the service — sipping water, checking their cell phones and chit-chatting around the courtyard's plastic tables. They danced in the darkened disco area, which was flush with colored lights. At the far end of the courtyard, men packed the bear den, which featured a stuffed bear in a harness, and televisions overhead flashing pornographic images like big penises and furry butts. As friends hugged, their faces reddened and contorted as they began to cry. 
Juan Yalinas, 55, attended with his partner, Preston Owen, 27. 
"This is the first time I've seen this many people in this place," Yalinas said. "I've never seen this outpour." 
Vigil-goers shared stories about Pulse. EJ LeClair, 36,  left the nightclub only hours before the shooting broke out. LeClair, who said he often went to the venue's Latin-themed nights, expected to stay until the club closed and help the club's owners clean up as he usually would. But he left around 11 p.m. after receiving an invitation to attend a pool party. 
"Pulse has been my home for 11 years," he said. "I know everybody that works there. That was my main concern, that everyone got out safe." 
Justin LaValle, 29, said that he attended Pulse almost every night — he dropped off friends at the venue the night of the shooting before heading home. 
"A couple of these kids, they just turned 21, so it's a really shitty situation," he said. "Not only is their life lost, but, they're kids. They haven't lived their lives and their lives were taken from them."
At around 10 p.m., people shuffled indoors to see a performance by drag queen Sonique. As she performed Christina Aguilera's anthemic "Beautiful," Sonique comforted onlookers, embracing them as they sobbed.
As attendees moved about the vigil, local media affiliates asked them to formulate media-ready soundbites about the shooting into a camera. Police officers milled about the crowd, an understandable but uneasy sight in the Orlando gay community's local watering hole. 
Yalinas said that having the world's eyes on Orlando's LGBTQ community felt odd. 
"The community's not small anymore," Yalinas said.
Both Yalinas and Owen said they were happy they chose to attend to vigil. 
"We have a right to go out and celebrate who we are and we're going to support who we are and protect each other no matter what," Owen said.