JK Rowling Shares Emotional Tribute to Orlando Club Shooting Victim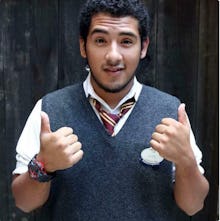 In wake of the Orlando shooting at a gay nightclub that has left 50 people dead and 53 wounded — the deadliest mass shooting on American soil in modern U.S. history — J.K. Rowling has paid tribute to one of the confirmed victims from the massacre. The Harry Potter author took to Twitter to share a photo of 22-year-old Luis Vielma, who worked at Universal Orlando Resort, and specifically, the Harry Potter-themed ride at the park, according to his Facebook page. 
"I can't stop crying," Rowling wrote. 
Co-workers of Vielma responded to Rowling's tweet, describing him as someone who "brought smiles to everyone he met," to which Rowling offered more condolences. 
Another one of Vielma's co-workers said he was a "Gryffindor," but added that another worker at the ride, Tony, is still in intensive care. "I'm praying Tony pulls through," Rowling responded. "My thoughts are with all of you #LoveIsLove." 
As of writing, Vielma is one of 26 victims that have been named from the shooting, according to the city of Orlando's website.  
Read more: