Orlando Massacre Exposes the Ugly Divide of the 2016 Election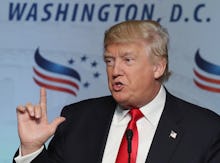 It took mere minutes after news of the massacre in Orlando, Florida, broke for presumptive Republican presidential nominee Donald Trump to resort to self-congratulation and finger-pointing about the attack — bringing what's already been one of the ugliest presidential campaigns in modern history to a new low.
As details of the worst mass shooting on American soil in modern history emerged — including that the gunman was a Muslim American who pledged allegiance to the Islamic State group, also known as ISIS, before the attack — Trump patted himself on the back for predicting that "this was going to happen," and called for the resignation of President Barack Obama and the withdrawal of presumptive Democratic nominee Hillary Clinton.
Read more: Donald Trump Issues Appalling Statement on Pulse Nightclub Massacre in Orlando
Even before victims had been identified, he doubled down on that rhetoric Sunday afternoon, saying he "called it" and re-issued his proposal to ban Muslim immigrants to the United States — despite the fact that the gunman was an American citizen for whom the ban wouldn't have applied.
And on Monday morning, Trump went on the morning television circuit, where he bragged on Fox News about being "right about many, many things," and boasted of receiving "thousands of letters and tweets" telling him his predictions about terrorism were correct.
While Trump's response fits with the billionaire businessman's persona, it paints a picture of the dilemma he'll face in front of a larger, general election electorate.
Polls show voters largely trust Trump to combat terrorism, but they say Clinton had the better disposition to be president, with only 12% saying Trump possessed the temperament to be president, according to an NBC News/Wall Street Journal survey.
Trump's response to the Orlando attack pits those two characteristics against each other.
The GOP candidate's hard-hitting response to the attacks "reinforces people who love Trump, but you can expect this to be the usual short attention span theater," Florida-based Republican strategist and Trump critic Rick Wilson said in a message. "Being willing to call radical Islam what it is is not a sufficient step as a national policy. It's only one step."
As Trump attempted to spike the ball in a self-congratulatory swing, Clinton came out to define the attacks as "an act of terror" as well as an "an act of hate." While Trump's solution hinged on banning Muslims from the United States, Clinton called for gun reform measures.
In a Monday morning interview on CNN, she added that Trump's response was "dangerous to our country" and played "right into ISIS' hands."
Both Trump and Clinton are expected to deliver speeches Monday on their plans to prevent future attacks such as the one in Orlando — remarks that will further illustrate the differences among the two candidates.
Clinton's speech will take place at 12:30 p.m. Eastern in Cleveland, Ohio, while Trump will deliver remarks at 2:30 p.m. Eastern in Manchester, New Hampshire.