The 'West Wing' Reunion at ATX Fest Was a Reminder of Just How Powerful TV Can Be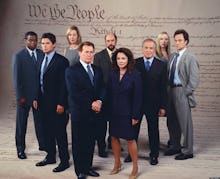 AUSTIN, TEXAS — Not many TV shows could inspire fans to line up around the block for hours in 90 degree heat. But The West Wing is not your average TV show.
A crowd of roughly 1,100 nearly filled the Paramount Theatre in Austin, Texas, Saturday to see their favorite fictional White House staffers take the stage at the ATX Television Festival.
Before the panel, the theater buzzed with tangible excitement more reminiscent of a political rally than a discussion. When the lights dimmed and W.G. Snuffy Walden's familiar intro theme played, the audience erupted into wild, whistling applause.
The West Wing has managed to earn and keep singularly devoted fans since it first aired in 1999. The show's resonance, though, isn't just the allure of the fast-talking, hard-hitting, whip-smart political narratives it brought to life through fictional President Josiah Bartlet's administration. For many fans in the audience Saturday, the connection is deeply personal.
It helped one woman in the crowd, Abbey Graf, understand her husband.
Abbey and Jason Graf came to Saturday's reunion decked out in West Wing fan apparel. Abbey donned an "Abbey Bartlet for America 2016" shirt — not just because she shares a first name with the fictional first lady, but also because of the real 2016 election, and "the whole 'first lady as president' thing."
Jason's shirt read "WWLD: What Would Leo Do?", which was more than just a nod to the West Wing chief of staff portrayed by John Spencer.
"I'm three years sober," Jason said at the reunion. "Watching Leo deal with the alcoholism on the show helped my wife understand what it was like to deal with."
"Leo's character helped me understand how [Jason's] alcoholism works — more than any AA leaflet I'd ever read," Abbey said. "It made me understand my husband. ... That's something that keeps me coming back — and it's personal."
It was personal for another member of the audience Saturday, who applauded Aaron Sorkin for portraying a president with multiple sclerosis. "I was diagnosed with MS two years ago, and to see that representation on screen is incredibly inspirational," she said when the cast took questions from the audience.
The genius of The West Wing is the show's ability to tackle complex issues — often deeply personal ones — in a smart and entertaining way.
"Nineteen million people would tune in, and over the course of an hour, you would get the bullet points of a very complicated argument between computer modeling and head counts in the national Census and the implications of that on policy," star Bradley Whitford, who played deputy chief of staff Josh Lyman, told the crowd.
Still, the show provided a platform for discussion — a politics that is "values made real," Whitford said. For many fans, it still does feel real.
Emily Gipson, founder and co-executive director of ATX Television Festival, opened the reunion by addressing what everyone was thinking: If only Josiah Bartlet could actually run for president in 2016.
"Just to even think about living in an era that President Bartlet was in the White House is something can only dream about," she said. "That's not a political statement, just the truth — everyone believes that."
"At least every four years, when the presidential election starts, we start watching again," Jason Graf said. "Wouldn't it be lovely to live in a world in which the Bartlet administration could actually occur?"
Daniel Kane, who has been watching The West Wing since he was 12 years old, agreed. "I think there's more nostalgia for The West Wing in this election especially."
Kane, a junior at the University of Texas at Austin studying government, said the show "definitely played a role" in his choice of major. "As a kid it's easy to get excited about what the characters are getting excited about," he said. "You look up to them, and they're really three-dimensional."
It was clear Saturday that people love The West Wing for more than its idealistic version of politics. For some, the show was life-changing — like Claire Handscombe, the self-described "biggest West Wing fan you'll ever meet." She even edited a book on it.
"I just want to say thank you for changing my life," Handscombe said to Sorkin. "I live in D.C. because of you, and I am a writer because of you."
As Sorkin noted appreciatively, the show has also inspired fans toward careers in public service — a phenomenon Vanity Fair dubbed the "Sorkinization of politics" in a 2012 piece on the rise of the "West Wing generation."
"You have no idea what it does to my heart to see so many young people in the audience today — people who would have been in Kindergarten when the show was on the air," Sorkin said.
To which Whitford quipped, "I have got to learn how to use Netflix."
For the cast and creators, The West Wing was more than a show, too. It was a family.
"Those were the best years of our lives, and we knew it," star Melissa Fitzgerald said, quoting Martin Sheen, not present at the reunion. Fitzgerald, who played Carol, said the show inspired her to a career in public service as the senior director at Justice for Vets.
"Martin [Sheen] was the father and John [Spencer] was the mother of this family," producer and director Tommy Schlamme said. He praised the late Spencer, who was clearly missed among both cast and fans.
Still, there was no shortage of comic relief Saturday, usually at actor Joshua Malina's expense. The chemistry between the actors was delightfully reminiscent of the way their characters interacted onscreen. Stars Janel Maloney and Whitford even snapped a late-night selfie, and fans on Twitter melted down.
"One thing I really appreciate about being a part of this West Wing family is that they never rested on what they did," Dulé Hill, who played presidential aide Charlie Young, said. "It really was always, 'What's next?'"
Sorkin said that the familiar line was originally written to give an "and the world goes on" ending to the pilot, to show the audience "this is just another day doing business in the White House."
The modern political climate might leave fans dreaming of a Bartlet 2016 ticket and retreating to their favorite episodes of The West Wing as therapy. But there's more to it than just wishful watching; it's the uniquely personal chord struck by the symphony of the show that keeps them coming back.
Read more: