How to Change Your Facebook Photo to "We Are Orlando" and Pride Flag After Pulse Shooting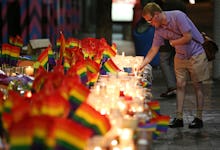 After a mass shooting at a gay nightclub in Orlando left at least 50 dead and many more wounded on Sunday, communities all across the world came together to share their grief, their shock and their fears, both in person and online.
On Sunday night, LGBTQ advocacy organization GLAAD introduced a filter that allows Facebook users to change their profile pictures to add a banner on the bottom that says "We Are Orlando" along with a rainbow pride flag.
To use the GLAAD filter to temporarily change your profile picture to show support for Orlando, go to the GLAAD Facebook page and click "Try It" under the pinned post. Then, crop your profile picture and choose the length of time the filter will last.
For other ways to help support the victims of the Orlando shooting and their families, visit Equality Florida's website.
Read more: