Donald Trump Says Orlando Victims Could Have Saved Themselves if They Were Armed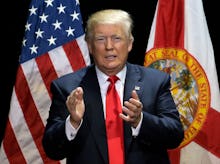 Presumptive Republican presidential nominee Donald Trump asserted Monday morning that the victims in the Orlando nightclub massacre could have been prevented if more people had been armed with guns.
"If people in that room had guns, with the bullets flying in the opposite direction right at [attacker Omar Mateen], right at his head, you wouldn't have had the same tragedy that you ended up having," Trump said on CNN's New Day. "And nobody even knows how bad that tragedy is, because I think probably the numbers will get bigger and bigger and worse and worse."
Mateen, who pledged allegiance to the Islamic State terror group before carrying out the massacre at the gay nightclub Pulse, killed 50 and injured 53.
Trump's remarks echo his comments after terror attacks in San Bernardino, California, and Paris in late 2015.
One day after a series of coordinated attacks in Paris killed 130 people in November, Trump told voters in Texas that "it would've been a much different situation."
After the December attack at a social services center in San Bernardino, in which 14 people died, Trump said, "I think it would've been a lot better if they had guns in that room, somebody could protect. They could've protected themselves if they had guns."
Once an advocate of a ban on assault weapons, Trump has moved to the right on guns since embarking on his Republican presidential quest. In May, the billionaire accepted the endorsement of the National Rifle Association, vowing to end gun-free zones if elected.