Did the Pulse Shooting in Orlando Make a Donald Trump Presidency More Likely?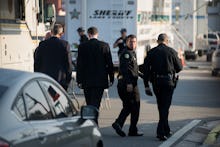 Donald Trump has made his name in presidential politics as a tough talker, a blusterer who promises to keep the country safe and rout evildoers.
But his initial responses to the slaying of 49 people at Pulse, a gay nightclub in Orlando, Florida, and what he will say about it and incidents of terror in the coming days, could have an as-yet unseen effect on his campaign as he pivots to a general election fight against presumptive Democratic nominee Hillary Clinton.
Read more: Donald Trump Says Orlando Victims Could Have Saved Themselves if They Were Armed
Trump's bellicose talk has served him well so far — and per conventional wisdom was largely seen as an advantage over Clinton.
But that view took hold during the primary phase of the campaign, when he was still battling it out for voters on the right flank of the political spectrum and the Clinton-Bernie Sanders battle was still raging.
For example, a Quinnipiac poll released May 10, which included the swing state of Florida, found respondents there saying by a margin of 49% to 43% percent that Trump would "do a better job handling terrorism" than Clinton, a former secretary of state and member of the Senate Armed Services committee.
Similarly, a Gallup survey from mid-May had voters giving Trump higher marks on terror-fighting:
How much of an impact will the Pulse incident — in which 49 people and shooter Omar Mateen died — have on views of the general election?
"It's June, and I doubt this awful event will have any real impact come November. We move on quickly," Larry Sabato, director of the Center for Politics at the University of Virginia, said in an email.
"Trump's backers will insist this proves him right about ISIS and the Muslim ban," Sabato added. "Those opposed to Trump will cite his un-presidential, narcissistic tweet congratulating himself as more evidence he is unfit for office. So what's new here? Not much."
Trump's social media reaction to the incident, in which the gunman reportedly caught the attention of authorities because of his reported taste for the murderous ideology of the Islamic State terrorist group, goes beyond the tragedy itself as Election 2016 plays out.
"I think the next rounds of polls could easily show a different kind of match-up. There'll be a transformation [in] that the two of them are the only ones that'll be considered as the two candidates facing each other," Lee Miringoff, director of The Marist College Institute for Public Opinion, said in a phone interview.
Generally, Miringoff added, "Trump's answers in the terrorist area work with a group that he's already got. The question is how does he broaden his base to be more attractive to [general electorate] voters."
Both Clinton and Trump are scheduled to speak on the events in Orlando today, and how they handle the incident — in public posture and private strategizing — will show voters a lot.
Clinton, like Trump, has struggled with measures of how "trustworthy" she appears to the public.
Temperament, however, is a separate subject — and that's where Team Clinton has been trying to skewer Trump, and may find new ways to do so in the wake of Orlando.
"They're willing to make it a referendum on Trump — and Trump seems to be cooperating at this point," Miringoff said, citing Trump's eyebrow-raising questions about President Obama's true allegiances in the fight against terrorism.
By patting himself on the back, the veteran pollster said, Trump is "writing [Clinton's] lines for her."
At the same time, Trump cannot be underestimated.
"He's unorthodox, he's unconventional," Miringoff said, and that's how Donald Trump got to where he is today — within a November Election Day's reach of the presidency.
Patrick Murray, director of the Monmouth University Polling Institute, cautioned against sweeping predictions.
"As with anything involving the Trump and the 2016 race, this could go either way, and is most likely to be the most unpredictable outcome. On the one hand, these types of attacks generally results in a heightened sense of fear among the public and a desire for more 'get tough' policies," Murray said in an email. "But then there are the Trump comments – [it's] not unusual to hear this rhetoric in this type of situation, but rarely from someone who aspires to the presidency."