Alleged Sexual Assault Survivor in Qatar Convicted for Having Sex Outside of Wedlock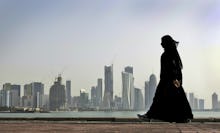 A Dutch woman is set to be released from a Doha, Qatar, prison this week, where she's been held since telling authorities she was drugged and raped three months ago. 
After reporting she was sexually assaulted while on vacation to the gulf state in March, the 22-year-old Utrecht woman, who has been identified only as "Laura," was charged with having sex out of wedlock, a crime that can carry up to a seven-year prison sentence in Qatar. Since she was taken into custody shortly after contacting law enforcement officials, Laura appeared in Qatari court three times facing charges of "adultery," or "fornication outside of marriage," for an act she claims was not consensual. 
Over the weekend, Qatar officials announced the alleged victim had been convicted and will be deported back to the Netherlands, with a one-year suspended prison sentence as well as a fine, according to Al Jazeera. 
"We will do everything we can to get her out of the country as soon as possible," Yvette Burghgraef- van Eechoud, the Netherlands' ambassador to Qatar, said. "Under the circumstances, Laura is doing fine." 
The woman's alleged assailant, a Syrian national identified as Omar Abdullah al-Hasan, was also tried and convicted for having sex outside of marriage and consuming alcohol, for which he has been sentenced to a total of 140 lashes as well as deportation. Hasan was not charged with rape, though Laura has maintained since she contacted the authorities that she was assaulted.
The Associated Press reported the alleged victim was on vacation with a female friend earlier this year when they went for drinks at the W Doha Hotel. Laura's attorney, Brian Lokollo, said she vaguely remembered leaving with an Arab man, later identified as Hasan. According to Lokollo, Laura believes the man "messed with her drink" before taking her back to an unfamiliar hotel room, where she alleges she woke up alone with her clothes torn. 
After contacting the authorities to report her alleged rape, Laura was quickly taken into custody, and has been held in detention since the ordeal began. A court official reportedly described the woman's eventual sentence as "lenient" by Qatari standards. "Had she been a Muslim woman, she would have received at least five years in jail. No one can get out of such charges here in Qatar," he said.
That's an important message to keep in mind, Lokollo told reporters, particularly as the nation's capital is slated to host the 2022 FIFA World Cup. The event is expected to draw millions of international tourists to Doha, where local laws restrict the consumption of alcohol and penalize out-of-wedlock sexual activity. However, Qatar is not the first country to charge a western tourist with a crime for reporting a rape. 
In 2008, the United Arab Emirates reportedly jailed Alicia Gali, an Australian woman, for eight months before being pardoned, after she told law enforcement officials she was gang raped at a hotel. Not long after Gali came forward with her story, in 2013, a Norwegian woman, Marte Deborah Dalelv, was convicted of having sex outside marriage and sentenced to a 16-month prison sentence after reporting she had been raped in Dubai. Eventually, Dalelv was also pardoned and allowed to leave UAE.